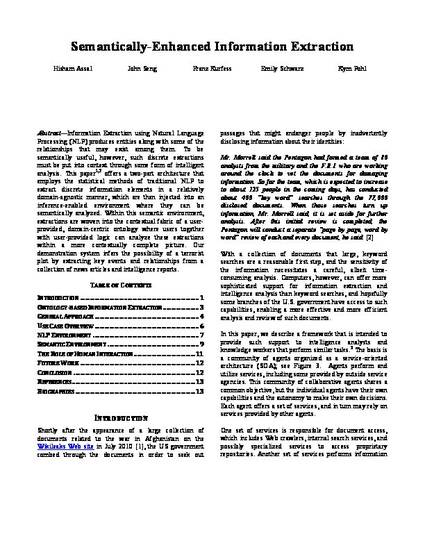 Presentation
Semantically-Enhanced Information Extraction
Proceedings from the 2011 IEEE Aerospace Conference: Big Sky, MT
Publication Date
3-5-2011
Abstract
Information Extraction using Natural Language Processing (NLP) produces entities along with some of the relationships that may exist among them. To be semantically useful, however, such discrete extractions must be put into context through some form of intelligent analysis. This paper1,2 offers a two-part architecture that employs the statistical methods of traditional NLP to extract discrete information elements in a relatively domain-agnostic manner, which are then injected into an inference-enabled environment where they can be semantically analyzed. Within this semantic environment, extractions are woven into the contextual fabric of a user-provided, domain-centric ontology where users together with user-provided logic can analyze these extractions within a more contextually complete picture. Our demonstration system infers the possibility of a terrorist plot by extracting key events and relationships from a collection of news articles and intelligence reports.
Citation Information
Hisham Assal, John Seng, Franz Kurfess, Emily Schwarz, et al.. "Semantically-Enhanced Information Extraction"
Proceedings from the 2011 IEEE Aerospace Conference: Big Sky, MT
(2011)
Available at: http://works.bepress.com/fkurfess/24/