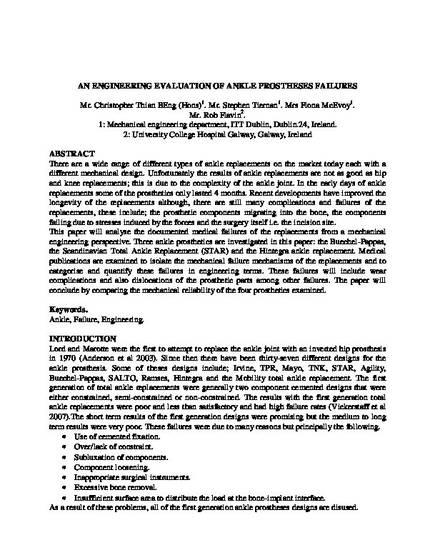 Article
An Engineering Evaluation of Ankle Prosthetics
Conference Papers
Document Type
Conference Paper
Publication Date
2008-9-1
Rights
This item is available under a Creative Commons License for non-commercial use only
Abstract
There are a wide range of different types of ankle replacements on the market today each with adifferent mechanical design. Unfortunately the results of ankle replacements are not as good as hipand knee replacements; this is due to the complexity of the ankle joint. In the early days of anklereplacements some of the prosthetics only lasted 4 months. Recent developments have improved thelongevity of the replacements although, there are still many complications and failures of thereplacements, these include; the prosthetic components migrating into the bone, the componentsfailing due to stresses induced by the forces and the surgery itself i.e. the incision site.This paper will analyse the documented medical failures of the replacements from a mechanicalengineering perspective. Three ankle prosthetics are investigated in this paper: the Buechel-Pappas,the Scandinavian Total Ankle Replacement (STAR) and the Hintegra ankle replacement. Medicalpublications are examined to isolate the mechanical failure mechanisms of the replacements and tocategorise and quantify these failures in engineering terms. These failures will include wearcomplications and also dislocations of the prosthetic parts among other failures. The paper will conclude by comparing the mechanical reliability of the four prosthetics examined.
Citation Information
Thian, C., Tiernan, S., McEvoy, F., Flavin, R. ''An Engineering Evaluation of Ankle Prosthetics'', 2008, 25th International Manufacturing Conference, September, DIT. Dublin.