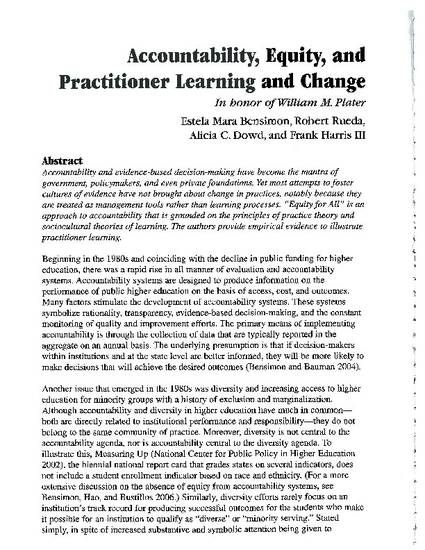 Article
Accountability, Equity, and Practitioner Learning and Change
Metropolitan Universities (2007)
Abstract
Accountability and evidence-based decision-making have become the mantra of government polilcymakers, and even private foundations. Yet most attempts to foster cultures of evidence have not brought about change in Practices, notably because they are treated as management tools rather than learning processes. Equity for All is an approach to accountability that is grounded on the principles of practice theory and sociocultural theories of learning. The authors provide empirical evidence to illustrate practitioner learning.
Citation Information
Bensimon, E.M., Rueda, R., Dowd, A.C., & Harris III, F. (2007). Accountability, equity, and practitioner learning and change.
Metropolitan Universities, 18
(3), 28-45.