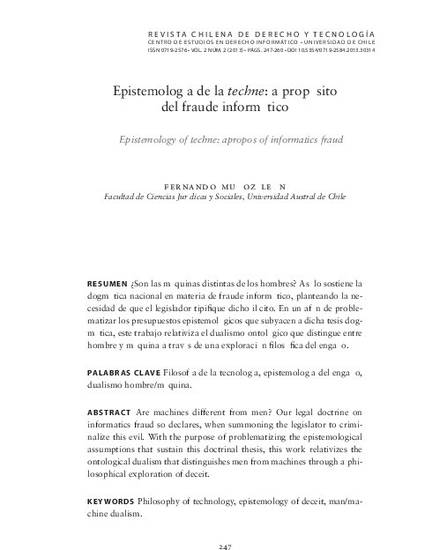 Article
Epistemología de la techne: a propósito del fraude informático
Revisa Chilena de Derecho y Tecnología (2013)
Abstract
Are machines different from men? Chilean legal doctrine on informatics fraud so declares, when summoning the legislator to criminalise this evil. With the purpose of problematising the epistemological assumptions that sustain this doctrinal thesis, this work relativizes the ontological dualism that distinguishes men from machines through a philosophical exploration of deceit.
Keywords
Philosophy of technology,
epistemology of deceit,
man/machine dualism
Citation Information
Fernando Muñoz. "Epistemología de la techne: a propósito del fraude informático"
Revisa Chilena de Derecho y Tecnología
Vol. 2 Iss. 2 (2013)
Available at: http://works.bepress.com/fernandomunoz/22/