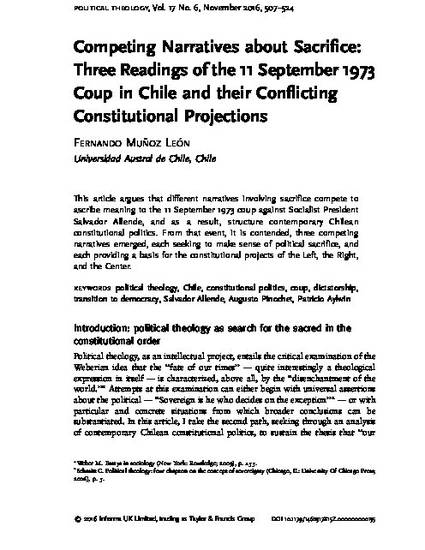 Article
Competing Narratives about Sacrifice: Three Readings of the September 11, 1973 Coup in Chile and their Conflicting Constitutional Projections
Political Theology (2015)
Abstract
This article argues that different narratives involving sacrifice compete to
ascribe meaning to the 11 September 1973 coup against Socialist President Salvador Allende, and as a result, structure contemporary Chilean constitutional politics. From that event, it is contended, three competing narratives emerged, each seeking to make sense of political sacrifice, and each providing a basis for the constitutional projects of the Left, the Right, and the Center.
Citation Information
Fernando Muñoz. "Competing Narratives about Sacrifice: Three Readings of the September 11, 1973 Coup in Chile and their Conflicting Constitutional Projections"
Political Theology
Vol. 17 (2015) p. 507 - 524
Available at: http://works.bepress.com/fernandomunoz/20/