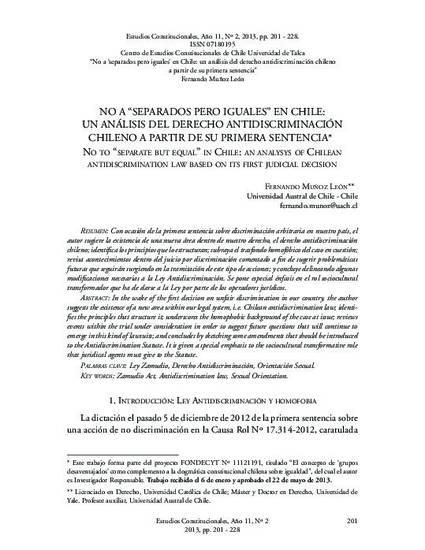 Article
No a "separados pero iguales en Chile": Un análisis del derecho antidiscriminación chileno a partir de su primera sentencia
Estudios Constitucionales (2013)
Abstract
In the wake of the first decision on unfair discrimination in our country, the author suggests the existence of a new area within our legal system, i.e. Chilean antidiscrimination law; identifies the principles that structure it; underscores the homophobic background of the case at issue; reviews events within the trial under consideration in order to suggest future questions that will continue to emerge in this kind of lawsuits; and concludes by sketching some amendments that should be introduced to the Antidiscrimination Statute.
Keywords
Ley Zamudio,
Derecho Antidiscriminación,
Orientación Sexual
Citation Information
Fernando Muñoz. "No a "separados pero iguales en Chile": Un análisis del derecho antidiscriminación chileno a partir de su primera sentencia"
Estudios Constitucionales
Vol. 11 Iss. 2 (2013)
Available at: http://works.bepress.com/fernandomunoz/16/