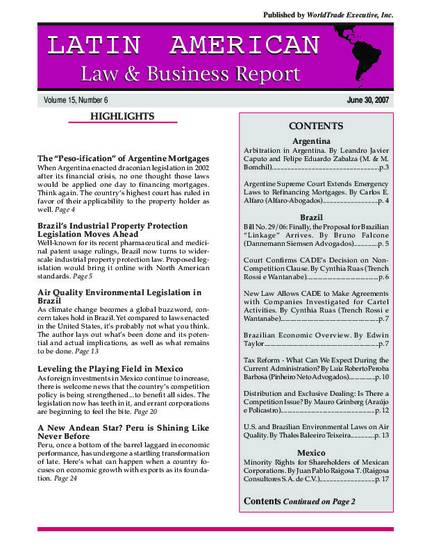 Article
Arbitration in Argentina - The Judicial Court's Review on the Arbitration Awards
Latin American Law & Business Report (Published by WorldTrade Executive, Inc. - Thomson Reuters) (2007)
Abstract
The nullity recourse against an arbitration award is not aimed at challenging alleged errors in iudicandum, nor is it possible to use it to obtain elliptically a judicial revision of an adverse award, since that would imply the degeneration of arbitration, depriving it of one of its most precious benefits.
A decision in re Decathlon España S.A. vs. Bertone, Luis, handed down by the National Court of Appeals on Commercial Matters, Chamber D, stated that "the higher or lesser amount of said control depends on the same will which gave rise to arbitration: it will be of a maximum extension if the parties hold the appeal for not having waived it, or it will be limited to certain formal fields in the case the contracting parties have waived such appeal and only hold the nullity appeal in relation to the award".
Keywords
Argentina,
arbitration,
award,
nullity recourse
Publication Date
June 30, 2007
Citation Information
Felipe Eduardo Zabalza and Leandro Javier Caputo. "Arbitration in Argentina - The Judicial Court's Review on the Arbitration Awards"
Latin American Law & Business Report (Published by WorldTrade Executive, Inc. - Thomson Reuters)
Vol. 15 Iss. 6 (2007)
Available at: http://works.bepress.com/felipe_zabalza/1/