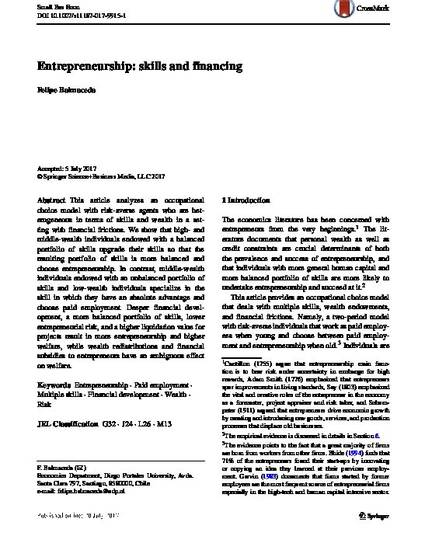 Article
Entrepreneurship vs Paid Employment: Multiple Skills and Financing
Small Business Economics (2018)
Abstract
We present an occupational choice model with risk-averse agents who are heterogeneous in terms of skills and wealth in a setting with financial frictions.  We show that high-income individuals and middle-income individuals endowed with a balanced portfolio of skills upgrade their skills so the resulting portfolio of skills is more balanced and choose entrepreneurship, while middle-income individuals endowed with an unbalanced portfolio of skills and low-income individuals specialize in the skill in which they have an absolute advantage and choose paid employment. Deeper financial development, a more balanced portfolio of skills, lower entrepreneurial risk and a higher liquidation value result in more entrepreneurship and higher welfare, while wealth redistributions and financial subsidies to entrepreneurs have an ambiguous effects on welfare.
Keywords
Skill Diversification,
Entrepreneurship,
Financial Development,
Wealth Distribution.
Publication Date
Winter February 20, 2018
DOI
DOI 10.1007/s11187-017-9915-1
Citation Information
Felipe Balmaceda. "Entrepreneurship vs Paid Employment: Multiple Skills and Financing"
Small Business Economics
Vol. 50 Iss. 4 (2018) p. 871-886 - 16 ISSN: 0921-898X
Available at: http://works.bepress.com/felipe_balmaceda/14/