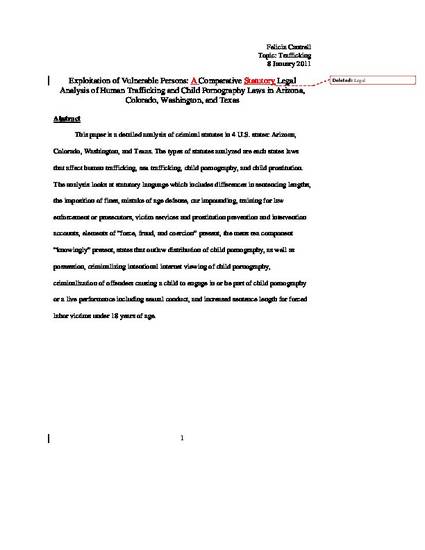 Unpublished Paper
EXPLOITATION OF VULNERABLE PERSONS: A COMPARATIVE STATUTORY LEGAL ANALYSIS OF HUMAN TRAFFICKING AND CHILD PORNOGRAPHY LAWS IN ARIZONA, COLORADO, WASHINGTON, AND TEXAS
ExpressO (2011)
Abstract
This paper is a detailed analysis of criminal statutes in 4 U.S. states: Arizona, Colorado, Washington, and Texas. The types of statutes analyzed are each states laws that affect human trafficking, sex trafficking, child pornography, and child prostitution. The analysis looks at statutory language which includes differences in sentencing lengths, the imposition of fines, mistake of age defense, car impounding, training for law enforcement or prosecutors, victim services and prostitution prevention and intervention accounts, elements of "force, fraud, and coercion" present, the mens rea component "knowingly" present, states that outlaw distribution of child pornography, as well as possession, criminalizing intentional internet viewing of child pornography, criminalization of offenders causing a child to engage in or be part of child pornography or a live performance including sexual conduct, and increased sentence length for forced labor victims under 18 years of age.
Keywords
human trafficking,
sex trafficking,
criminal law,
child pornography,
labor trafficking,
child prostitution
Publication Date
June 21, 2011
Citation Information
Felicia Cantrell. "EXPLOITATION OF VULNERABLE PERSONS: A COMPARATIVE STATUTORY LEGAL ANALYSIS OF HUMAN TRAFFICKING AND CHILD PORNOGRAPHY LAWS IN ARIZONA, COLORADO, WASHINGTON, AND TEXAS"
ExpressO
(2011)
Available at: http://works.bepress.com/felicia_cantrell/1/