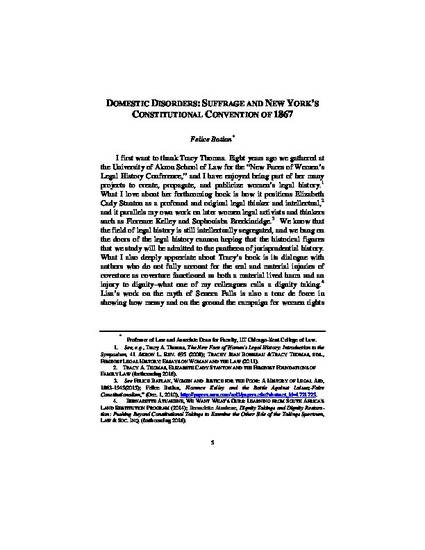 Article
Domestic Disorders: Suffrage and New York's Constitutional Convention of 1867
ConLawNOW
Abstract
In this essay, Felice Batlan discusses New York State's Constitutional Convention of 1867. She argues that it is (at least in part) the outcome of this convention and the antagonisms that it created that further propelled Elizabeth Cady Stanton and Susan Anthony to align with interests opposing African-American suffrage. It also shows the absolute mess of pursuing suffrage on a state by state basis and how legislators themselves equated the voting of African American men with women's suffrage. The essay is part of a larger project in conversation with scholarship about Reconstruction in the North and a second body of scholarship on women's history.
Citation Information
Felice Batlan. "Domestic Disorders: Suffrage and New York's Constitutional Convention of 1867"
Available at: http://works.bepress.com/felice_batlan/30/