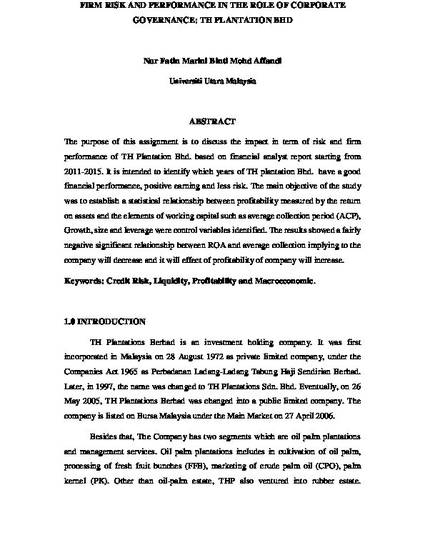 Unpublished Paper
Corporate Governance.pdf
(2017)
Abstract
The purpose of this assignment is to discuss the impact in term of risk and firm performance of TH Plantation Bhd. based on financial analyst report starting from 2011-2015. It is intended to identify which years of TH plantation Bhd.  have a good financial performance, positive earning and less risk. The main objective of the study was to establish a statistical relationship between profitability measured by the return on assets and the elements of working capital such as average collection period (ACP), Growth, size and leverage were control variables identified. The results showed a fairly negative significant relationship between ROA and average collection implying to the company will decrease and it will effect of profitability of company will increase.
Keywords
Keywords: Credit Risk,
Liquidity,
Profitability and Macroeconomic.
Publication Date
April 16, 2017
Citation Information
fatin marini. "Corporate Governance.pdf" (2017)
Available at: http://works.bepress.com/fatinmarini/1/