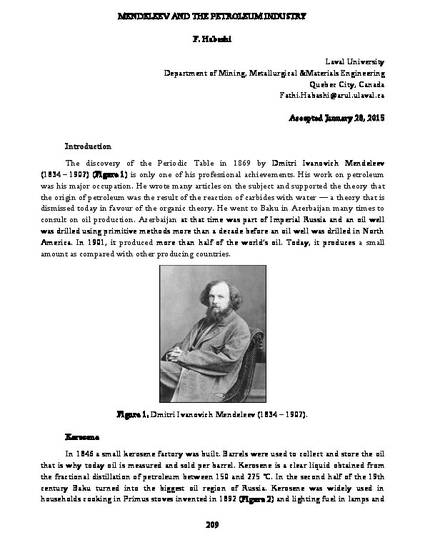 Article
Mendeleev and the Petroleum Industry.pdf
Nano Studies [Tbilisi, Georgia] (2015)
Abstract
The discovery of the Periodic Table in 1869 by Mendeleev (1834
-
1907) is only one of his professional achievements. His work on petroleum was his major occupation. He wrote many articles on the subject and went to Baku in Azerbaijan many times to consult on oil production. Azerbaijan at that time was part of Imperial Russia and an oil well was drilled using primitive methods more than a decade before an oil well was drilled in North America. In 1901, it produced more than half of the world's oil. Today, it produces a small amount as compared with other producing countries.
Keywords
Baku,
Imperial Russia,
Vasily Kokorev,
Alfred Nobel,
First oil tanker,
Baku-Batu
Publication Date
December, 2015
Citation Information
Fathi Habashi. "Mendeleev and the Petroleum Industry.pdf"
Nano Studies [Tbilisi, Georgia]
Vol. 12 Iss. 2 (2015) p. 209 - 218 ISSN: 1987 − 8826
Available at: http://works.bepress.com/fathi_habashi/164/