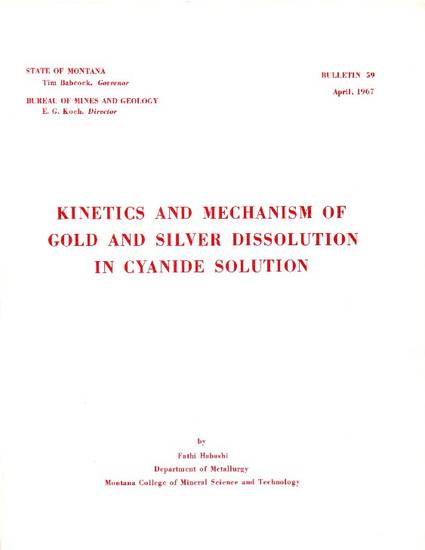 Article
Kinetics and Mechanisms of Gold and Silver Dissolution in Cyanide Solution
State of Montana, Bureau of Mines & Geology (1967)
Abstract
The dissolution of gold and silver in cyanide solution is an oxidation–reduction process in which cyanide ion forms a strong complex with Au+ or Ag+ ions and the reduction of oxygen on the surface of metal may take place partially to the hydrogen peroxide stage or completely to hydroxyl ion.
Keywords
Cyanidation process,
Oxidation–reduction process,
Hydroxyl ions,
Hydrogen peroxide
Publication Date
April, 1967
Citation Information
Fathi Habashi. "Kinetics and Mechanisms of Gold and Silver Dissolution in Cyanide Solution"
State of Montana, Bureau of Mines & Geology
Vol. Bulletin 59 (1967)
Available at: http://works.bepress.com/fathi_habashi/139/