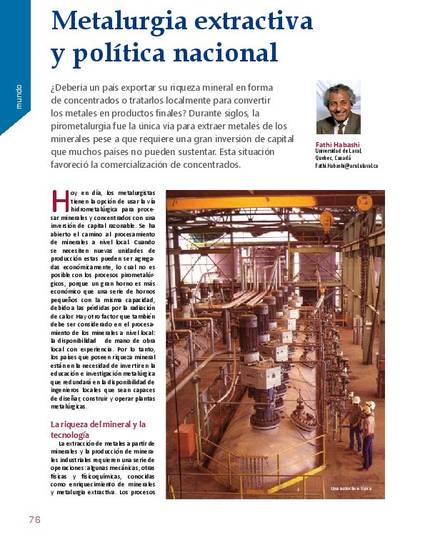 Article
Metalurgia extractiva y política nacional
Revista de la Universidad Nacional de Ingeniera, Peru (2011)
Abstract
Should a country export its mineral wealth in form of concentrates or should it locally treat its ores to produce metals as final products? In the past centuries pyrometallurgy was the only route to extract metals from ores and this required a large capital investment many countries could not afford to raise. This situation encouraged marketing of concentrates. Today, metallurgists have the option to use the hydrometallurgical route to process ores and concentrates at a reasonable capital investment. This opened the way to the possibility of processing ores locally. When need arises to increase production new units can be added economically. This is not possible with pyrometallurgical processes because one large furnace is more economical than a number of small furnaces with the same capacity due to heat radiation losses. However, another factor must also be considered in processing the ores locally: the availability of local experienced manpower. Hence, the necessity in investment in metallurgical education and research. This is essential to ensure the availability of local engineers who are capable of designing, building, and operating metallurgical plants.
Keywords
Exporting concentrates,
Processing locally,
Minerals,
Shipping,
Research
Publication Date
Fall 2011
Citation Information
Fathi Habashi. "Metalurgia extractiva y política nacional"
Revista de la Universidad Nacional de Ingeniera, Peru
Vol. 2011 (2011)
Available at: http://works.bepress.com/fathi_habashi/108/