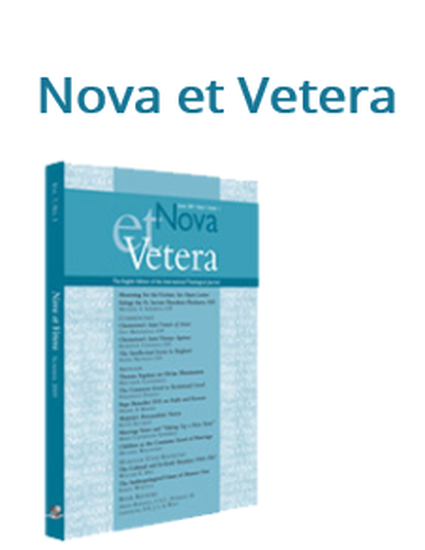 Article
Worship, the Bond Between Time/Space and Eternity
Nova et Vetera (2006)
Abstract
Dr. Kenneth Schmitz's review of philosophical insights into language and writing is necessarily focused on the world of Greece and Rome. It would be valuable to have scholars immersed in the Hebrew language and traditional Jewish culture to reflect upon the same issues. At a conference on the trivium and quadrivium in Medieval Europe, Dean Arthur Hyman of Yeshiva University was asked to comment. His response was brief: "This was not the Jewish approach."
Recalling the genius and limitations of a language to convey insights into the meaning of life and its mysteries, we acknowledge the role of translation in conveying insights between people of different cultures. With the tools of modern scholarship quite precise translations are placed at the service of philosopher and theologian, yet further discourse and dialogue will enrich the ways to serve those striving to penetrate the revealed Word. Jewish scholars immersed in the millennial traditions of their communities can make a valuable contribution to this task.
These papers contain the fruit of scholarship that has matured over decades, quite clearly wedding intellectual pursuits with a faith expressing itself in prayer. Only this combination of reasoning and reflection on the Word can produce theology.
Keywords
Worship,
Time,
Space,
Eternity,
Kenneth Schmitz,
Matthew Lamb,
idolatry,
temptation,
Creator,
Judge,
neighbor,
self,
natural world,
Creation,
Salvation,
Revelation,
TaBhNIT,
Yerushlaim,
Lord's prayer,
olam,
World to Come,
Age to Come,
oLaMiM,
saeculum,
Temple,
omphalos mundi,
Pharisees,
priest,
God's image,
Mishnah Sanhedrin,
sabbath,
divine presence,
communion with God,
mystery of death,
pilgrimage to Jerusalem,
Passover,
Weeks,
Booths,
harvest festivals,
Covenant,
Torah,
Mount Sinai,
ZiKKaRon,
ZaKhaR,
Haggadah,
Exodus,
Last Supper,
Jesus,
death and resurrection,
Lamb of God