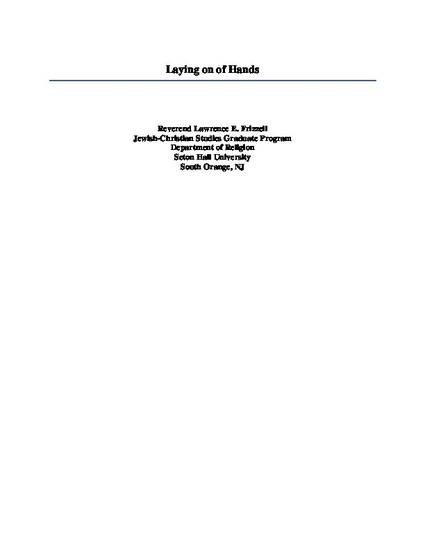 Unpublished Paper
Laying on of Hands
(2005)
Abstract
Bibical definition and etymology of "laying on of hands."
Keywords
Laying on of Hands,
Semikhah,
imposition of hands,
pressing of hands,
animal sacrifice,
successor,
ordination,
Sanhedrin,
herem,
court case,
Johanan ben Zakkai,
Mishnah Sanhedrin,
rabbi,
diploma,
Hattarat Hora'ah,
healing,
baptism,
episcopate,
priesthood,
diaconate,
anointing of the sick
Citation Information
Lawrence E. Frizzell, "Laying on of Hands." In The Selected Works Lawrence E. Frizzell, 2005. Available at: http://works.bepress.com/fatherlawrence_frizzelldphil/60.