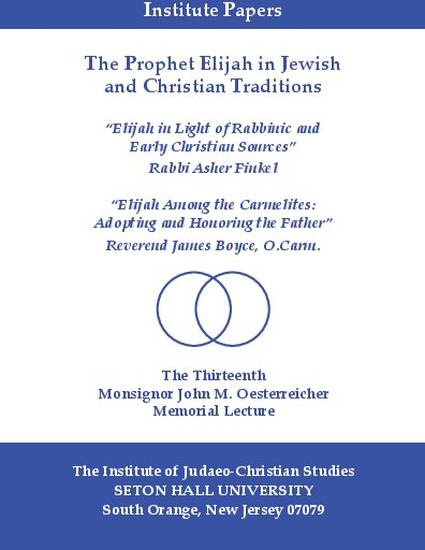 Contribution to Book
Elijah the Peacemaker: Jewish and Early Christian Interpretations of Malachi 3:23-24
Teshuvah Institute Papers (2010)
Abstract
Few biblical personalities influenced the thought of later generations more deeply than Elijah the Thisbite. His mysterious departure excited speculation, as did the accounts of his miracles and the vagueness about his origin. There was a general conviction that his departure, like that of Hempel, did not sever his relationship with the world and his people. The oldest extant text concerning Elijah's return occurs at the end of Malachi, the last prophet in the Hebrew Bible.
This article was originally published in SIDIC 17/3 (1984): 19-25.
Keywords
Elijah,
Thisbite,
peacemaker,
2 Kg 2,
Sim 48,
1 Enoch 89,
1 Macc 2,
1 Kg 19,
Num 25,
Ps 106,
Sira 45; 1 Macc 2,
Mount Carmel,
1 Kg 17,
1 Kg 18,
1 Kg 19,
Gen 5,
Sira 44,
Wisdom Sol 4,
Phinchas,
peacemaker,
Ahab,
Troubler of Israel,
John the Baptist,
Luke 1,
Luke 3,
Fourth Book of Ezra,
Esdras,
Pharisees,
Rabbi Joshua,
Mishnah Eduyoth VIII,
Rabbi Judah bar Ilai,
Rabbi Simeon bar Yohai,
Eliyyahu Zuta,
The City of God XX,
Rabbi Phineas ben Jair
Citation Information
Lawrence E. Frizzell, "Elijah the Peacemaker: Jewish and Early Christian Interpretations of Malachi 3:23-24."
Teshuvah Institute Papers
(2010): 25-33.