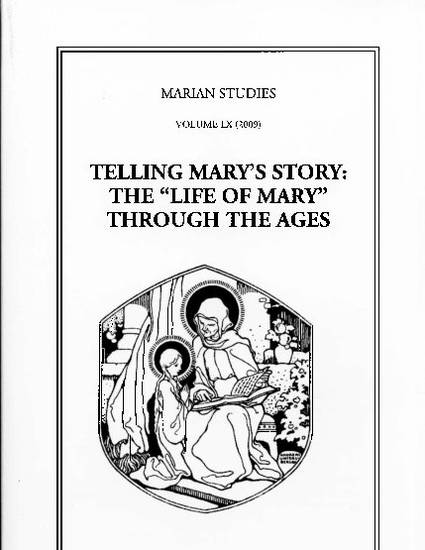 Article
Mary and the Jews: The Gospels and the Early Church
Marian Studies (2009)
Abstract
The intention of this essay is twofold; to extend the time period of my earlier essays on Mary and the biblical heritage and to sketch the developments in the early Church, in spite of their burdens of motifs relating to the Jewish people, so that we can understand our history with an insight into the Church's roots and prepare for a better future in Christian- Jewish relations.
Visit Marian Studies online at http://www.mariologicalsociety.com/Marian%20Studies.html
Keywords
Mother of Jesus,
Mother of God,
Bearer or God,
Mary,
Mary and theJews,
Gospels,
Early Church,
Theotokos,
Constitution on the Church,
Lumen Gentium,
Judaeo-Christian,
Jewish-Christian,
Vatican II,
Second Vatican Council,
Nostra Aetate,
Jesus of Nazareth,
Lk 1,
Luke 1,
Mary's Hymn,
Hymn of Mary,
Tiburtius Gallus,
perfidia,
choosen people,
Isaiah,
deicide,
Matthew 9,
Mt 9,
Mark 2,
Mk 2,
Mt 13,
Matthew 13,
Rom 11,
Romans 11,
Sorrows of the Blessed Virgin,
Exaltation of the Holy Cross,
prophecy of Simeon,
John 19:25,
Jn 19:25,
Luke's Infancy Gospel,
Lukan Infancy Narrative,
Virgin-Mother,
Quintus Septimius Florens Tertullian,
De carne Christi,
Eusebius of Caesarea,
Docetism,
Anti-Jewish,
Psalm 69:8,
Ps 69:8,
St. Ambrose of Milan,
Marian piety,
ecclesial Mariology,
Comm. Lucam,
Mary and Judaism,
John Chrysostom,
Synagoge tou satana,
assembly of satan,
St. Jerome,
Opus imperfectum in Matthaeum,
St. Gregory I,
Dormition o f Mary,
Pope Pius XII,
Stephen Shoemaker,
" Let Us Go and Burn Her Body,
The Image of the Jews in the Early Dormition Traditions,
St. Bede,
Retractatio,
Vitu SS. Willibuldi at Wynnebaldi,
triptych from L'Aquila,
L'Aquila triptych,
intercessor
Citation Information
Lawrence E. Frizzell. "Mary and the Jews: The Gospels and the Early Church"
Marian Studies
Vol. 60 (2009)
Available at: http://works.bepress.com/fatherlawrence_frizzelldphil/158/