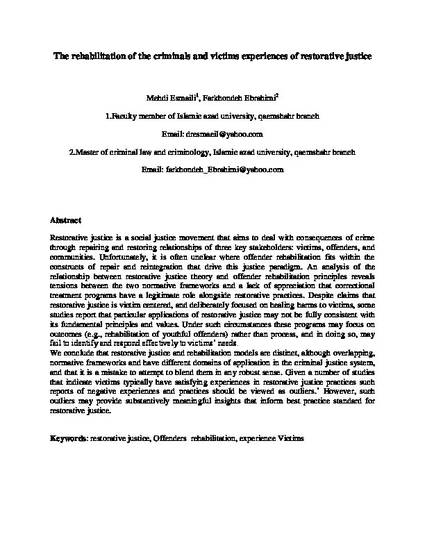 Article
m.docx
journal of criminal law & criminology (2017)
Abstract
Restorative justice is a social justice movement that aims to deal with consequences of crime throughrepairing and restoring relationships of three key stakeholders: victims, offenders, and communities. Unfortunately, it is often unclear where offender rehabilitation fits within the constructs of repair andreintegration that drive this justice paradigm. An analysis of the relationship between restorative justicetheory and offender rehabilitation principles reveals tensions between the two normative frameworks and alack of appreciation that correctional treatment programs have a legitimate role alongside restorativepractices.Despite claims that restorative justice is victim centered, and deliberately focused on healingharms to victims, some studies report that particular applications of restorative justice may not befully consistent with its fundamental principles and values. Under such circumstances theseprograms may focus on outcomes (e.g., rehabilitation of youthful offenders) rather than process,and in doing so, may fail to identify and respond effectively to victims' needs.
Keywords
restorative justice,
Offenders rehabilitation,
experience Victims
Publication Date
Summer September 16, 2017
Citation Information
farkhondeh ebrahimi. "m.docx"
journal of criminal law & criminology
(2017) ISSN: 0091-4169
Available at: http://works.bepress.com/farkhondeh-ebrahimi/1/