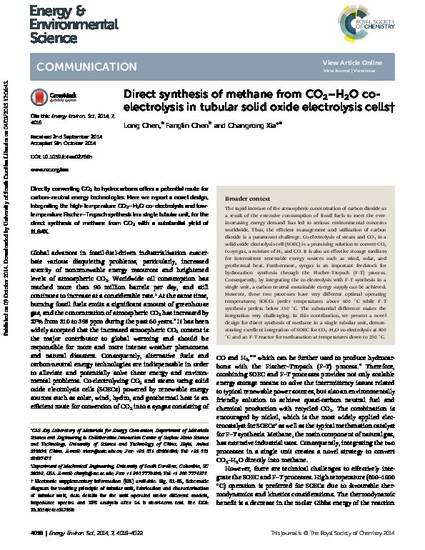 Article
Direct Synthesis of Methane from Co2-H2O Co-Electrolysis in Tubular Solid Oxide Electrolysis Cells
Energy & Environmental Science
Publication Date
12-1-2014
Abstract
Directly converting CO2 to hydrocarbons offers a potential route for carbon-neutral energy technologies. Here we report a novel design, integrating the high-temperature CO2–H2O co-electrolysis and low-temperature Fischer–Tropsch synthesis in a single tubular unit, for the direct synthesis of methane from CO2 with a substantial yield of 11.84%.
Citation Information
Long Chen, Fanglin Chen and Changrong Xia. "Direct Synthesis of Methane from Co2-H2O Co-Electrolysis in Tubular Solid Oxide Electrolysis Cells"
Energy & Environmental Science
Vol. 7 Iss. 12 (2014) p. 4018 - 4022
Available at: http://works.bepress.com/fanglin_chen/7/