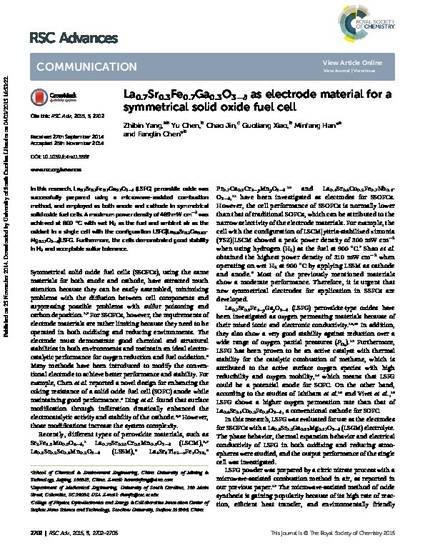 Article
La0.7Sr0.3Fe0.7Ga0.3O3-δ as Electrode Material for a Symmetrical Solid Oxide Fuel Cell
RSC Advances
Publication Date
1-1-2015
Abstract
In this research, La0.7Sr0.3Fe0.7Ga0.3O3−δ (LSFG) perovskite oxide was successfully prepared using a microwave-assisted combustion method, and employed as both anode and cathode in symmetrical solid oxide fuel cells. A maximum power density of 489 mW cm−2 was achieved at 800 °C with wet H2 as the fuel and ambient air as the oxidant in a single cell with the configuration LSFG|La0.8Sr0.2Ga0.83Mg0.17O3−δ|LSFG. Furthermore, the cells demonstrated good stability in H2 and acceptable sulfur tolerance.
Citation Information
Zhibin Yang, Yu Chen, Chao Jin, Guoliang Xiao, et al.. "La0.7Sr0.3Fe0.7Ga0.3O3-δ as Electrode Material for a Symmetrical Solid Oxide Fuel Cell"
RSC Advances
Vol. 5 Iss. 4 (2015) p. 2702 - 2705
Available at: http://works.bepress.com/fanglin_chen/30/