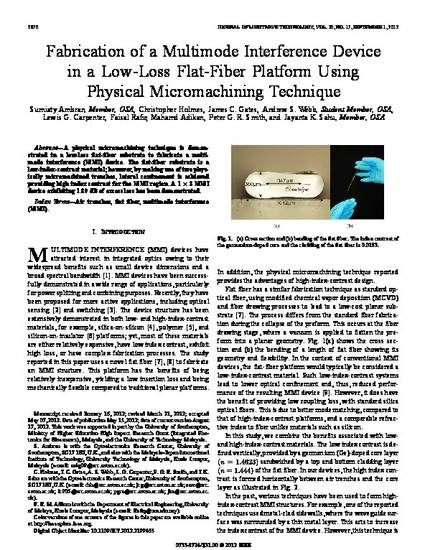 Article
Fabrication of a Multimode Interference Device in a Low-Loss Flat-Fiber Platform Using Physical Micromachining Technique
Journal of Lightwave Technology (2012)
Abstract
A physical micromachining technique is demonstrated in a low-loss flat-fiber substrate to fabricate a multimode interference (MMI) device. The flat-fiber substrate is a low-index-contrast material; however, by making use of two physically micromachined trenches, lateral confinement is achieved providing high index contrast for the MMI region. A 1 x 3 MMI device exhibiting 1.89 dB of excess loss has been demonstrated.
Keywords
air trenches flat fiber multimode interference (mmi) wave-guides couplers splitter systems design
Publication Date
September, 2012
Citation Information
Faisal Rafiq Mahamd Adikan. "Fabrication of a Multimode Interference Device in a Low-Loss Flat-Fiber Platform Using Physical Micromachining Technique"
Journal of Lightwave Technology
Vol. 30 Iss. 17 (2012)
Available at: http://works.bepress.com/faisalrafiq_mahamdadikan/8/