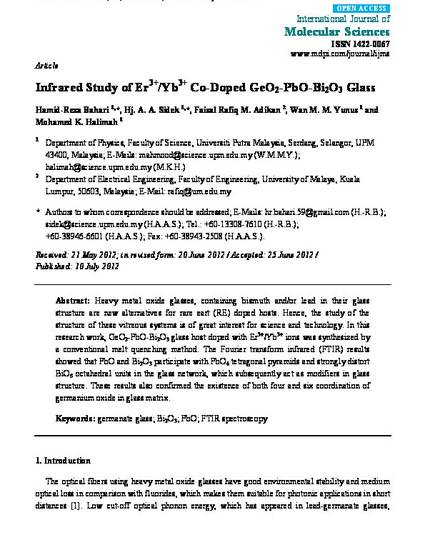 Article
Infrared Study of Er3+/Yb3+ Co-Doped GeO2-PbO-Bi2O3 Glass
International Journal of Molecular Sciences (2012)
Abstract
Heavy metal oxide glasses, containing bismuth and/or lead in their glass structure are new alternatives for rare eart (RE) doped hosts. Hence, the study of the structure of these vitreous systems is of great interest for science and technology. In this research work, GeO2-PbO-Bi2O3 glass host doped with Er3+/Yb3+ ions was synthesized by a conventional melt quenching method. The Fourier transform infrared (FTIR) results showed that PbO and Bi2O3 participate with PbO4 tetragonal pyramids and strongly distort BiO6 octahedral units in the glass network, which subsequently act as modifiers in glass structure. These results also confirmed the existence of both four and six coordination of germanium oxide in glass matrix.
Publication Date
July 1, 2012
Citation Information
Faisal Rafiq Mahamd Adikan. "Infrared Study of Er3+/Yb3+ Co-Doped GeO2-PbO-Bi2O3 Glass"
International Journal of Molecular Sciences
Vol. 13 Iss. 7 (2012)
Available at: http://works.bepress.com/faisalrafiq_mahamdadikan/6/