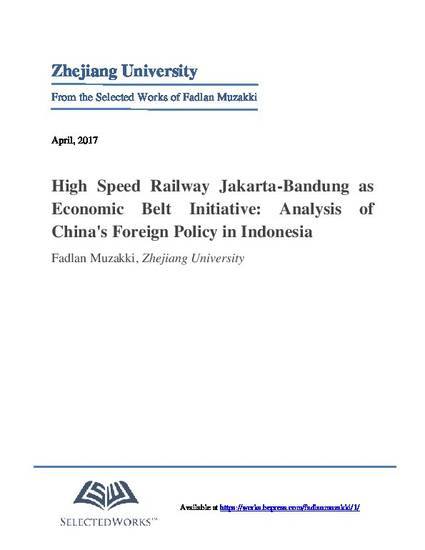 Article
High Speed Railway Jakarta-Bandung as Economic Belt Initiative: Analysis of China's Foreign Policy in Indonesia (Conference Proceedings at Harvard University, Boston USA)
International Conference on Interdisciplinary Social Science Studies (2017)
Abstract
Sino-Indonesian  relations  have  always  been  ups  and  downs.  However,  the  relation  is  now 
getting  much  better.  It can be seen that China succeeded in winning a bid for a high-speed 
railway  line  linking  Jakarta  to  Bandung.  There  are  several  key  factors  as  to  why  China 
successful,  such  as  budget  consideration,  length  of  the  construction,  the  total  number  of 
workers,  the  marketing  strategy,  and  the  business  model  offered.  This  paper  analyses  the 
factors using SWOT analysis. Besides, this paper is unearthing the potency of choosing China 
in  handling  the  project  of  the  high-speed  railway.  This  research  brings  a  new  and  broad 
perspective on the borderless community between two countries. Moreover, also gives a new 
perspective  for  students,  researchers,  observers  who  want  to  conduct  a  research  on  ChinaIndonesia relations  in today's world.  Suggestions are also mentioned to raise a much closer 
bilateral relation between Indonesia and China.
Keywords
China,
Indonesia,
Foreign Policy,
OBOR,
High-Speed Railway,
Belt and Road Initiative
Publication Date
Spring April 26, 2017
Citation Information
Fadlan Muzakki. "High Speed Railway Jakarta-Bandung as Economic Belt Initiative: Analysis of China's Foreign Policy in Indonesia (Conference Proceedings at Harvard University, Boston USA)"
International Conference on Interdisciplinary Social Science Studies
(2017) ISSN: 978-1-911185-23-9
Available at: http://works.bepress.com/fadlanmuzakki/1/