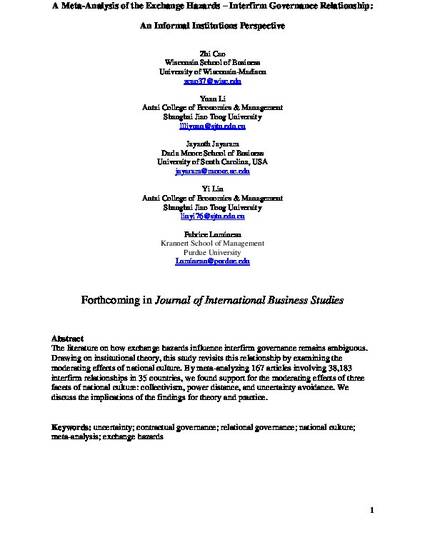 Article
A Meta-Analysis of the Exchange Hazards – Interfirm Governance Relationship: An Informal Institutions Perspective
Journal of International Business Studies (2018)
Abstract
The literature on how exchange hazards influence interfirm governance remains ambiguous. Drawing on institutional theory, this study revisits this relationship by examining the moderating effects of national culture. By meta-analyzing 167 articles involving 38,183 interfirm relationships in 35 countries, we found support for the moderating effects of three facets of national culture: collectivism, power distance, and uncertainty avoidance. We discuss the implications of the findings for theory and practice.
Keywords
uncertainty,
contractual governance,
relational governance,
national culture,
meta-analysis,
exchange hazards
Citation Information
Zhi Cao, Yuan Li, Jayanth Jayaram, Yi Liu, et al.. "A Meta-Analysis of the Exchange Hazards – Interfirm Governance Relationship: An Informal Institutions Perspective"
Journal of International Business Studies
(2018)
Available at: http://works.bepress.com/fabrice_lumineau/16/