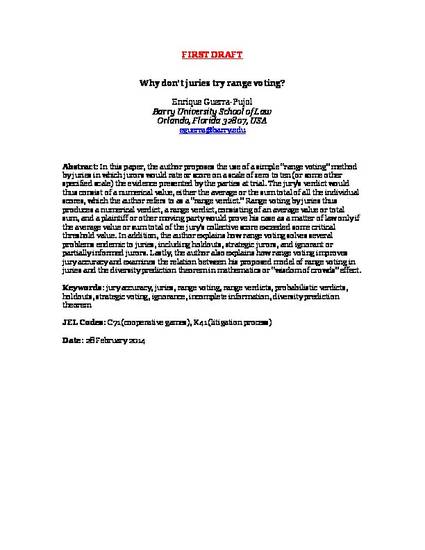 Unpublished Paper
Why Don't Juries Try Range Voting?
ExpressO (2014)
Abstract
In this paper, the author proposes the use of a simple "range voting" method by juries in which jurors would rate or score on a scale of zero to ten (or some other specified scale) the evidence presented by the parties at trial. The jury's verdict would thus consist of a numerical value, either the average or the sum total of all the individual scores, which the author refers to as a "range verdict." Range voting by juries thus produces a numerical verdict, a range verdict, consisting of an average value or total sum, and a plaintiff or other moving party would prove his case as a matter of law only if the average value or sum total of the jury's collective score exceeded some critical threshold value. In addition, the author explains how range voting solves several problems endemic to juries, including holdouts, strategic jurors, and ignorant or partially informed jurors. Lastly, the author also explains how range voting improves jury accuracy and examines the relation between his proposed model of range voting in juries and the diversity prediction theorem in mathematics or "wisdom of crowds" effect.
Keywords
jury accuracy,
juries,
range voting,
range verdicts,
probabilistic verdicts,
holdouts,
strategic voting,
ignorance,
incomplete information,
diversity prediction theorem
Publication Date
March 1, 2014
Citation Information
F.E. Guerra-Pujol. "Why Don't Juries Try Range Voting?"
ExpressO
(2014)
Available at: http://works.bepress.com/f_e_guerra_pujol/34/