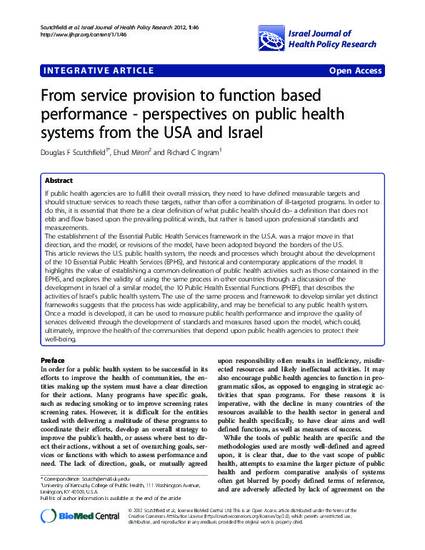 Article
From service provision to function based performance - perspectives on public health systems from the USA and Israel
Israel Journal of Health Policy Research
Abstract
If public health agencies are to fulfill their overall mission, they need to have defined measurable targets and should structure services to reach these targets, rather than offer a combination of ill-targeted programs. In order to do this, it is essential that there be a clear definition of what public health should do- a definition that does not ebb and flow based upon the prevailing political winds, but rather is based upon professional standards and measurements. The establishment of the Essential Public Health Services framework in the U.S.A. was a major move in that direction, and the model, or revisions of the model, have been adopted beyond the borders of the U.S. This article reviews the U.S. public health system, the needs and processes which brought about the development of the 10 Essential Public Health Services (EPHS), and historical and contemporary applications of the model. It highlights the value of establishing a common delineation of public health activities such as those contained in the EPHS, and explores the validity of using the same process in other countries through a discussion of the development in Israel of a similar model, the 10 Public Health Essential Functions (PHEF), that describes the activities of Israel's public health system. The use of the same process and framework to develop similar yet distinct frameworks suggests that the process has wide applicability, and may be beneficial to any public health system. Once a model is developed, it can be used to measure public health performance and improve the quality of services delivered through the development of standards and measures based upon the model, which could, ultimately, improve the health of the communities that depend upon public health agencies to protect their well-being.
Publication Date
1-1-2012
Digital Object Identifier (DOI)
http://dx.doi.org/10.1186/2045-4015-1-46
Citation Information
F. Douglas Scutchfield, Ehud Miron and Richard Ingram. "From service provision to function based performance - perspectives on public health systems from the USA and Israel"
Israel Journal of Health Policy Research
Vol. 1 Iss. 46 (2012)
Available at: http://works.bepress.com/f_douglas_scutchfield/93/