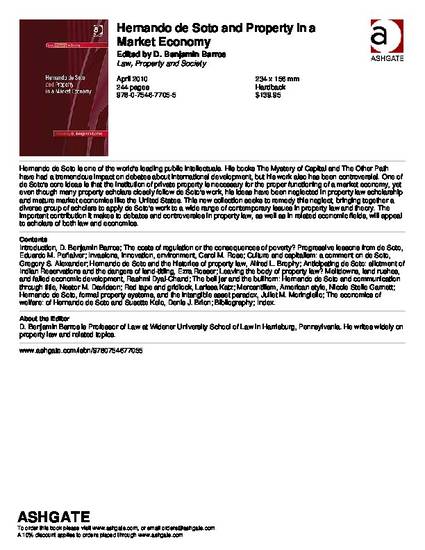 Contribution to Book
Anticipating de Soto: Allotment of Indian Reservations and the Dangers of Land-Titling
Hernando de Soto and Property in a Market Economy (2010)
Abstract
This chapter uses the disastrous allotment experience of Indian tribes to question the transformative power of land-titling for the poor as advocated by Hernando de Soto. For Indians, allotment era land-titling resulted in loss of land and hardship, all reflective of non-Indian desires for the land and an unwillingness to acknowledge the rights of Indians to govern themselves. The chapter ends with a brief discussion of the champas of El Salvador and the potential loss in terms of housing for the poor if de Soto's ideas are implemented without some protection against sales to the wealthy.
Keywords
Indian,
Native American,
Allotment,
De Soto,
Land-titling,
El Salvador,
informal housing,
champa
Publication Date
January 1, 2010
Editor
D. Benjamin Barros
Citation Information
Rosser, Ezra. "Anticipating de Soto: Allotment of Indian Reservations and the Dangers of Land-Titling." In Hernando de Soto and Property in a Market Economy, edited by D. Benjamin Barros, 61-81. Farnham, UK: Ashgate, 2010.