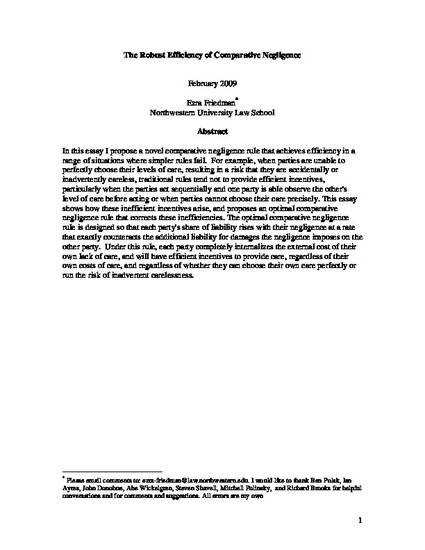 Unpublished Paper
The Robust Efficiency of Comparative Negligence
ExpressO (2009)
Abstract
In this essay I propose a novel comparative negligence rule that achieves efficiency in a range of situations where simpler rules fail. For example, when parties are unable to perfectly choose their levels of care, resulting in a risk that they are accidentally or inadvertently careless, traditional rules tend not to provide efficient incentives, particularly when the parties act sequentially and one party is able observe the other's level of care before acting or when parties cannot choose their care precisely. This essay shows how these inefficient incentives arise, and proposes an optimal comparative negligence rule that corrects these inefficiencies. The optimal comparative negligence rule is designed so that each party's share of liability rises with their negligence at a rate that exactly counteracts the additional liability for damages the negligence imposes on the other party. Under this rule, each party completely internalizes the external cost of their own lack of care, and will have efficient incentives to provide care, regardless of their own costs of care, and regardless of whether they can choose their own care perfectly or run the risk of inadvertent carelessness.
Keywords
Comparative Negligence Efficiency Torts Contributory Negligence
Publication Date
March 2, 2009
Citation Information
Ezra Friedman. "The Robust Efficiency of Comparative Negligence"
ExpressO
(2009)
Available at: http://works.bepress.com/ezra_friedman/1/