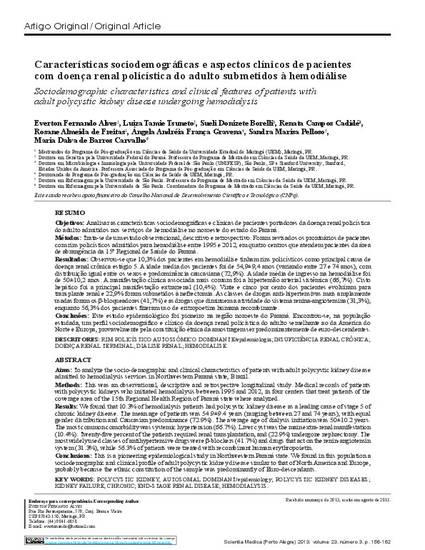 Article
Características sociodemográficas e aspectos clínicos de pacientes com doença renal policística do adulto submetidos à hemodiálise; Sociodemographic characteristics and clinical features of patients with adult polycystic kidney disease undergoing hemodialysis
Scientia Medica (2013)
Abstract
Aims: To analyze the socio-demographic and clinical characteristics of patients with adult polycystic kidney disease
admitted to hemodialysis services in Northwestern Paraná state, Brazil.
Methods: This was an observational, descriptive and retrospective longitudinal study. Medical records of patients
with polycystic kidneys who initiated hemodialysis between 1995 and 2012, in four centers that treat patients of the
coverage area of the 15th Regional Health Region of Paraná state where analyzed.
Results: We found that 10.3% of hemodialysis patients had polycystic kidney disease as a leading cause of stage 5 of
chronic kidney disease. The mean age of patients was 54.9±9.4 years (ranging between 27 and 74 years), with equal
gender distribution and Caucasian predominance (72.9%). The average age of dialysis initiation was 50±10.2 years.
The most common comorbidity was systemic hypertension (66.7%). Liver cyst was the main extra-renal manifestation
(10.4%). Twenty-five percent of the patients required renal transplantation, and (22.9%) undergone nephrectomy. The
most widely used classes of antihypertensive drugs were β-blockers (41.7%) and drugs that act on the renin-angiotensin
system (31.3%), while 56.3% of patients were treated with recombinant human erythropoietin.
Conclusions: This is a pioneering epidemiological study in Northwestern Paraná state. We found in this population a
sociodemographic and clinical profile of adult polycystic kidney disease similar to that of North America and Europe,
probably because the ethnic constitution of the sample was predominantly of Euro-descendants.
Keywords
Rim policístico autossômico dominante,
Epidemiologia,
Insuficiência renal crônica,
Doença renal terminal,
Diálise renal,
Hemodiálise,
Polycystic kidney,
autosomal dominant,
Polycystic kidney diseases,
Kidney failure,
Chronic kmidney disease,
End-stage renal disease,
Hemodialysis.
Publication Date
November 10, 2013
Citation Information
Everton Fernando Alves, Luiza Tamie Tsuneto, Sueli Donizete Borelli, Renata Campos Cadidé, et al.. "Características sociodemográficas e aspectos clínicos de pacientes com doença renal policística do adulto submetidos à hemodiálise; Sociodemographic characteristics and clinical features of patients with adult polycystic kidney disease undergoing hemodialysis"
Scientia Medica
Vol. 23 Iss. 3 (2013)
Available at: http://works.bepress.com/evertonfernandoalves/19/