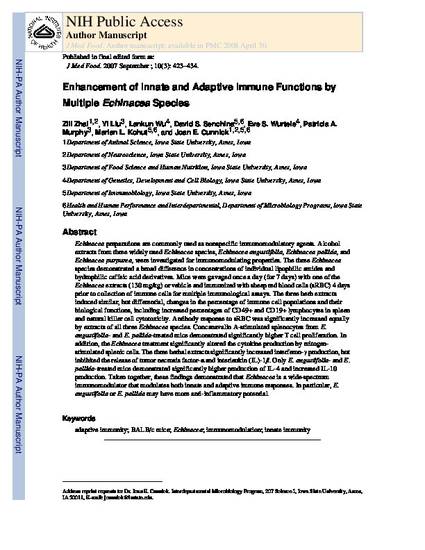 Article
Enhancement of Innate and Adaptive Immune Functions by Multiple Echinacea Species
Journal of Medicinal Food
Publication Version
Accepted Manuscript
Publication Date
1-1-2007
Abstract
Echinacea preparations are commonly used as nonspecific immunomodulatory agents. Alcohol extracts from three widely used Echinacea species, Echinacea angustifolia, Echinacea pallida, and Echinacea purpurea, were investigated for immunomodulating properties. The three Echinacea species demonstrated a broad difference in concentrations of individual lipophilic amides and hydrophilic caffeic acid derivatives. Mice were gavaged once a day (for 7 days) with one of the Echinacea extracts (130 mg/kg) or vehicle and immunized with sheep red blood cells (sRBC) 4 days prior to collection of immune cells for multiple immunological assays. The three herb extracts induced similar, but differential, changes in the percentage of immune cell populations and their biological functions, including increased percentages of CD49+ and CD19+ lymphocytes in spleen and natural killer cell cytotoxicity. Antibody response to sRBC was significantly increased equally by extracts of all three Echinacea species. Concanavalin A-stimulated splenocytes from E. angustifolia- and E. pallida-treated mice demonstrated significantly higher T cell proliferation. In addition, the Echinacea treatment significantly altered the cytokine production by mitogenstimulated splenic cells. The three herbal extracts significantly increased interferon-γ production, but inhibited the release of tumor necrosis factor-α and interleukin (IL)-1β. Only E. angustifolia- and E. pallida-treated mice demonstrated significantly higher production of IL-4 and increased IL-10 production. Taken together, these findings demonstrated that Echinacea is a wide-spectrum immunomodulator that modulates both innate and adaptive immune responses. In particular, E. angustifolia or E. pallida may have more anti-inflammatory potential.
Copyright Owner
Korean Society of Food Science and Nutrition
File Format
application/pdf
Citation Information
Zili Zhao, Yi Liu, Lankun Wu, David S. Senchina, et al.. "Enhancement of Innate and Adaptive Immune Functions by Multiple Echinacea Species"
Journal of Medicinal Food
Vol. 10 Iss. 3 (2007) p. 423 - 434
Available at: http://works.bepress.com/eve-wurtele/50/