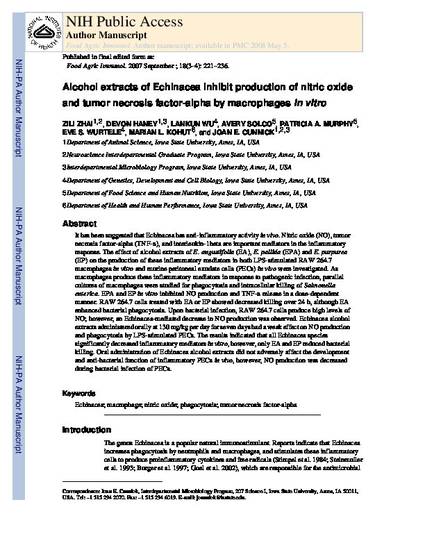 Article
Alcohol extracts of Echinacea inhibit production of nitric oxide and tumor necrosis factor-alpha by macrophages in vitro
Food and Agricultural Immunology
Publication Version
Accepted Manuscript
Publication Date
1-1-2007
DOI
10.1080/09540100701797363
Abstract
It has been suggested that Echinacea has anti-inflammatory activity in vivo. Nitric oxide (NO), tumor necrosis factor-alpha (TNF-α), and interleukin-1beta are important mediators in the inflammatory response. The effect of alcohol extracts of E. angustifolia (EA), E. pallida (EPA) and E. purpurea (EP) on the production of these inflammatory mediators in both LPS-stimulated RAW 264.7 macrophages in vitro and murine peritoneal exudate cells (PECs) in vivo were investigated. As macrophages produce these inflammatory mediators in response to pathogenic infection, parallel cultures of macrophages were studied for phagocytosis and intracellular killing of Salmonella enterica. EPA and EP in vitro inhibited NO production and TNF-α release in a dose-dependent manner. RAW 264.7 cells treated with EA or EP showed decreased killing over 24 h, although EA enhanced bacterial phagocytosis. Upon bacterial infection, RAW 264.7 cells produce high levels of NO; however, an Echinacea-mediated decrease in NO production was observed. Echinacea alcohol extracts administered orally at 130 mg/kg per day for seven days had a weak effect on NO production and phagocytosis by LPS-stimulated PECs. The results indicated that all Echinacea species significantly decreased inflammatory mediators in vitro, however, only EA and EP reduced bacterial killing. Oral administration of Echinacea alcohol extracts did not adversely affect the development and anti-bacterial function of inflammatory PECs in vivo, however, NO production was decreased during bacterial infection of PECs.
Copyright Owner
Taylor & Francis
File Format
application/pdf
Citation Information
Zili Zhai, Devon Haney, Lankun Wu, Avery Solco, et al.. "Alcohol extracts of Echinacea inhibit production of nitric oxide and tumor necrosis factor-alpha by macrophages in vitro"
Food and Agricultural Immunology
Vol. 18 Iss. 3-4 (2007) p. 221 - 236
Available at: http://works.bepress.com/eve-wurtele/49/