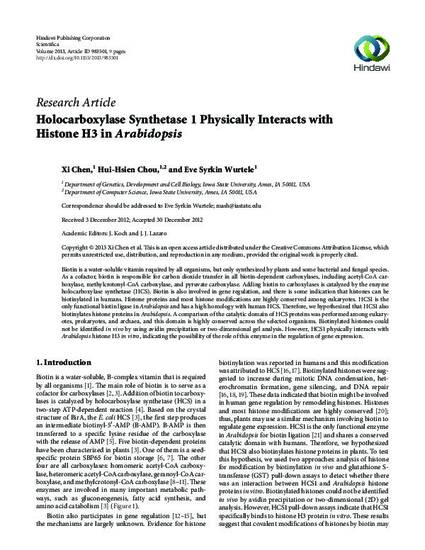 Article
Holocarboxylase Synthetase 1 Physically Interacts with Histone H3 in Arabidopsis
Scientifica
Publication Version
Published Version
Publication Date
1-1-2013
Abstract
Biotin is a water-soluble vitamin required by all organisms, but only synthesized by plants and some bacterial and fungal species. As a cofactor, biotin is responsible for carbon dioxide transfer in all biotin-dependent carboxylases, including acetyl-CoA carboxylase, methylcrotonyl-CoA carboxylase, and pyruvate carboxylase. Adding biotin to carboxylases is catalyzed by the enzyme holocarboxylase synthetase (HCS). Biotin is also involved in gene regulation, and there is some indication that histones can be biotinylated in humans. Histone proteins and most histone modifications are highly conserved among eukaryotes. HCS1 is the only functional biotin ligase in Arabidopsis and has a high homology with human HCS. Therefore, we hypothesized that HCS1 also biotinylates histone proteins in Arabidopsis. A comparison of the catalytic domain of HCS proteins was performed among eukaryotes, prokaryotes, and archaea, and this domain is highly conserved across the selected organisms. Biotinylated histones could not be identified in vivo by using avidin precipitation or two-dimensional gel analysis. However, HCS1 physically interacts with Arabidopsis histone H3 in vitro, indicating the possibility of the role of this enzyme in the regulation of gene expression.
Rights
This is an open access article distributed under the Creative Commons Attribution License, which permits unrestricted use, distribution, and reproduction in any medium, provided the original work is properly cited.
Copyright Owner
Xi Chen et al
File Format
application/pdf
Citation Information
Xi Chen, Hui-Hsien Chou and Eve S. Wurtele. "Holocarboxylase Synthetase 1 Physically Interacts with Histone H3 in Arabidopsis"
Scientifica
Vol. 2013 (2013) p. 983501
Available at: http://works.bepress.com/eve-wurtele/34/