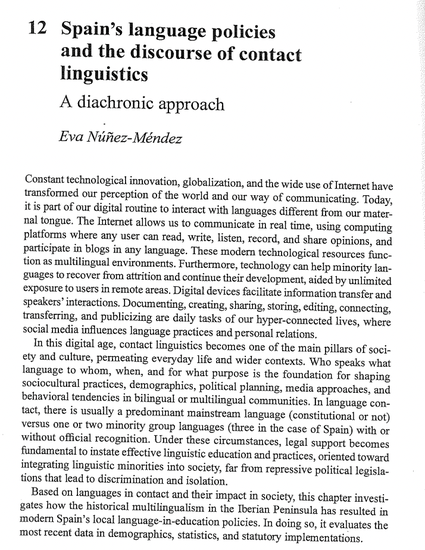 Contribution to Book
Ch. 12 Spain's Language Policies & Contact Linguistics (2018)
Biculturalism and Spanish in Contact (2018)
Abstract
This chapter presents the notion of linguistic policies and rights from a sociopolitical and bicultural perspective. Spain becomes a sociolinguistic prototype due to its extensive background in language planning policies and bilingual education. The case of Spain is studied as representative of legitimate multilingualism with illustrative examples in terms of officiality, vitality, governmental responses, social identity, and education programs. The chapter explains the Peninsular linguistic landscape in the light of language contact approaches, and introduces updated data in demographics, statistics, and laws. It describes the contemporary panorama in which Spanish is in contact with four languages, and gives a diachronic account of its early contact with the non-Indo-European Basque, and eventually with three other Romance varieties: Portuguese, Galician, and Catalan. It concludes with an overview of the repercussions of this contact to map modern Spanish and its role in society and the education system. The main scope consists of offering insight into, and the opportunity to reflect on, the sociolinguistic reality of languages in contact. Secondly, it covers social aspects of language planning, the relations between minority and official languages, and how these are represented in legal policies, with Spain as a point of departure.
Publication Date
Winter November 1, 2018
Citation Information
Eva Núñez-Méndez. "Ch. 12 Spain's Language Policies & Contact Linguistics (2018)"
Biculturalism and Spanish in Contact
(2018)
Available at: http://works.bepress.com/eva_nunez-mendez/45/