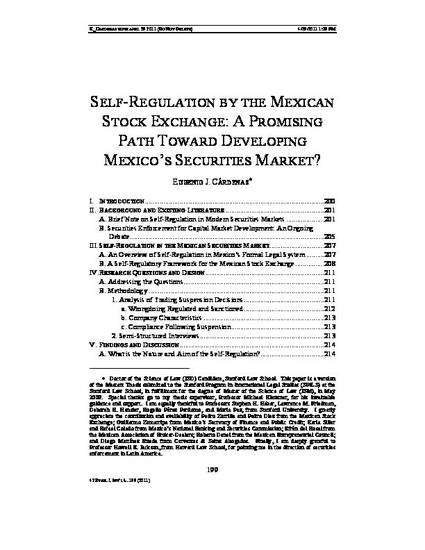 Article
Self-Regulation by the Mexican Stock Exchange: A Promising Path Toward Developing Mexico's Securities Market?
Stanford Journal of International Law, Vol. 47, p. 199 (2011)
Abstract
Seeking to shed light on the extent to which self-regulation works in the Mexican securities market, the study involves an empirical analysis of 128 decisions issued by the Mexican Stock Exchange (MSE) during a recent five-year period, involving 89 cases of trading suspension sanctions. The research inquires on: i) the nature and aim of the self-regulation, on account of the wrongdoing governed and sanctioned; ii) the issuing companies targeted; and iii) how they respond to the sanctions, in terms complying. Reaction to the findings through a series of semi-structured interviews with key players of Mexico's securities market further illustrate the development, role, and challenges of the self-regulation.
Among other findings, the research concludes that the self-regulation is largely preventive and procedural in nature, aimed primarily at inducing timely and complete governance compliance, rather than at more serious misconduct. Moreover, the firms targeted and sanctioned are usually smaller and less profitable. Nonetheless, compliance rates are fairly high, and trade is often resumed within hours. Even if the trading suspensions do not seem to have an impact on the price of stock, issuers apparently care significantly about being suspended. The study also points to challenges faced by the current self-regulatory regime, including certain wrongdoing not being detected, the absence of stronger sanctions like fines, the need for more revision and auditing, and to overcome the conflicts of interest derived from the Mexican Stock Exchange becoming a publicly-held company, policing the same market that it manages and in which it trades.
This paper involves an initial effort to collect and assess empirical data on enforcement activity for Latin America, a region with widespread support for market development but with a hostile corporate environment, often characterized by concentrated ownership structures, strong controlling owners, and tunneling, that could benefit from a better understanding of securities enforcement for its development. Moreover, the research adds new dimensions to the existing literature by both focusing on an emerging region, and addressing self-regulation by stock exchanges as an alternative enforcement channel with the potential of strengthening markets.
Citation Information
Eugenio J. Cardenas, Self-Regulation by the Mexican Stock Exchange: A Promising Path Toward Developing Mexico's Securities Market?, 47 Stan. J. Int'l L. 199 (2011)