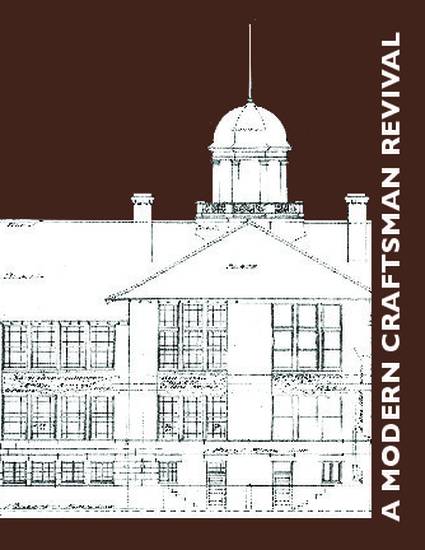 Presentation
A Modern Craftsman Revival
Virginia Commonwealth University (2015)
Abstract
The modern Craftsman movement is an attempt to break the contemporary mold, that is a desire to introduce a younger generation to a level of interior detail that has been lost in contemporary construction and material usage. Components such as drywall tend to envelop all contemporary residential surfaces leaving little room for tectonic expression and opportunities for detailing. Further, a modern revival would re-establish the goals of the original movement and ensure the hand was present in the design of the home, as discussed by Winter & Vertikoff, "all versions were meant to counter the excesses of the Victorian period by returning to a preindustrial past when handicrafts displayed personal involvement in the products of a laborer's work" (31).Introducing concepts of Craftsman kit construction to the interior, as well as modern technology to lessen the cost of handcrafted details, opens the possibility to new methods of modular design in which interior units are configured around structural skeletons and central base points that provide supply lines to residential units. One example is Dutch design firm Minale-Maeda's Keystones, a 3D printed connector that holds together any necessary components, like furniture. These keystones can be printed at home and save time and the need to obtain anything but essential components (website). The design firm works to create an "ongoing awareness of the possibilities of both mass-production and skilled craftsmanship" (L'arco Baleno, 2014). Another interesting example is Dutch design brand Fraaiheid's Minimal Waste Table, which is created from one piece of laminated plywood with a CNC milling machine which makes for extremely minimal waste (Williamson, 2013). These examples of automation require a craftsman's hand and mind to create the concept but introduce a modern approach to reducing waste, time and cost.
Keywords
adaptive reuse,
modularity,
prefabrication,
American Craftsman,
residential design,
customization
Publication Date
Spring May 8, 2015
Citation Information
Eugene M Rader. "A Modern Craftsman Revival"
Virginia Commonwealth University
(2015)
Available at: http://works.bepress.com/eugene_rader/1/