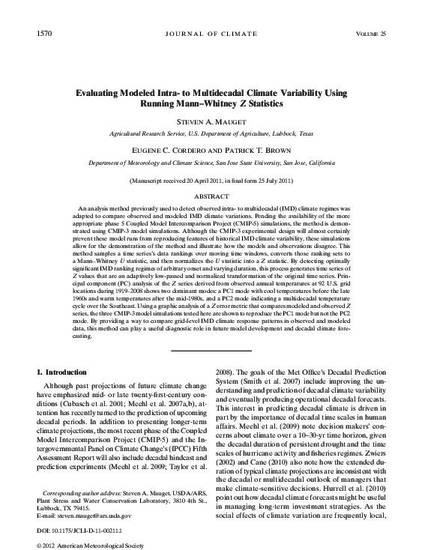 Article
Evaluating Modeled Intra- to Multidecadal Climate Variability Using Running Mann–Whitney Z Statistics
Journal of Climate (2012)
Abstract
An analysis method previously used to detect observed intra- to multidecadal (IMD) climate regimes was adapted to compare observed and modeled IMD climate variations. Pending the availability of the more appropriate phase 5 Coupled Model Intercomparison Project (CMIP-5) simulations, the method is demonstrated using CMIP-3 model simulations. Although the CMIP-3 experimental design will almost certainly prevent these model runs from reproducing features of historical IMD climate variability, these simulations allow for the demonstration of the method and illustrate how the models and observations disagree. This method samples a time series's data rankings over moving time windows, converts those ranking sets to a Mann–Whitney U statistic, and then normalizes the U statistic into a Z statistic. By detecting optimally significant IMD ranking regimes of arbitrary onset and varying duration, this process generates time series of Z values that are an adaptively low-passed and normalized transformation of the original time series. Principal component (PC) analysis of the Z series derived from observed annual temperatures at 92 U.S. grid locations during 1919–2008 shows two dominant modes: a PC1 mode with cool temperatures before the late 1960s and warm temperatures after the mid-1980s, and a PC2 mode indicating a multidecadal temperature cycle over the Southeast. Using a graphic analysis of a Z error metric that compares modeled and observed Z series, the three CMIP-3 model simulations tested here are shown to reproduce the PC1 mode but not the PC2 mode. By providing a way to compare grid-level IMD climate response patterns in observed and modeled data, this method can play a useful diagnostic role in future model development and decadal climate forecasting.
Keywords
Statistical Techniques,
Climate Models,
Diagnostics,
Model Comparison,
Model Errors,
Interdecadal Variability
Publication Date
March, 2012
Citation Information
Steven A. Mauget, Eugene C. Cordero and Patrick T. Brown. "Evaluating Modeled Intra- to Multidecadal Climate Variability Using Running Mann–Whitney Z Statistics"
Journal of Climate
Vol. 25 Iss. 5 (2012)
Available at: http://works.bepress.com/eugene_cordero/11/