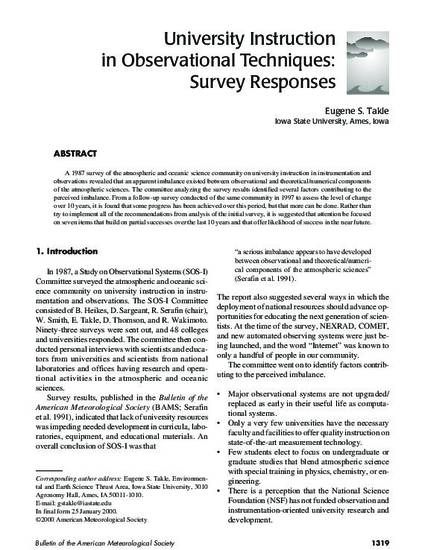 Article
University Instruction in Observational Techniques: Survey Responses
Bulletin of the American Meteorological Society
Publication Version
Published Version
Publication Date
6-1-2000
DOI
10.1175/1520-0477(2000)081<1319:UIIOTS>2.3.CO;2
Abstract
A 1987 survey of the atmospheric and oceanic science community on university instruction in instrumentation and observations revealed that an apparent imbalance existed between observational and theoretical/numerical components of the atmospheric sciences. The committee analyzing the survey results identified several factors contributing to the perceived imbalance. From a follow—up survey conducted of the same community in 1997 to assess the level of change over 10 years, it is found that some progress has been achieved over this period, but that more can be done. Rather than try to implement all of the recommendations from analysis of the initial survey, it is suggested that attention be focused on seven items that build on partial successes over the last 10 years and that offer likelihood of success in the near future.
Rights
Copyright 2000 American Meteorological Society (AMS). Permission to use figures, tables, and brief excerpts from this work in scientific and educational works is hereby granted provided that the source is acknowledged. Any use of material in this work that is determined to be "fair use" under Section 107 of the U.S. Copyright Act September 2010 Page 2 or that satisfies the conditions specified in Section 108 of the U.S. Copyright Act (17 USC §108, as revised by P.L. 94-553) does not require the AMS's permission. Republication, systematic reproduction, posting in electronic form, such as on a website or in a searchable database, or other uses of this material, except as exempted by the above statement, requires written permission or a license from the AMS. All AMS journals and monograph publications are registered with the Copyright Clearance Center (http://www.copyright.com). Questions about permission to use materials for which AMS holds the copyright can also be directed to the AMS Permissions Officer at permissions@ametsoc.org. Additional details are provided in the AMS Copyright Policy statement, available on the AMS website (http://www.ametsoc.org/CopyrightInformation).
Copyright Owner
American Meteorological Society
File Format
application/pdf
Citation Information
Eugene S. Takle. "University Instruction in Observational Techniques: Survey Responses"
Bulletin of the American Meteorological Society
Vol. 81 Iss. 6 (2000) p. 1319 - 1326
Available at: http://works.bepress.com/eugene-takle/65/