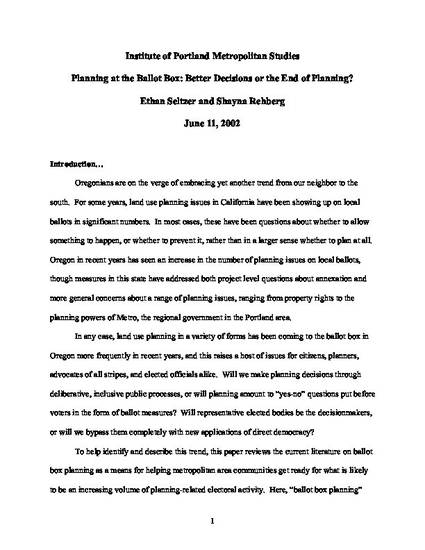 Article
Planning at the Ballot Box : Better Decisions or the End of Planning?
Institute of Portland Metropolitan Studies Publications
Document Type
Working Paper
Publication Date
6-11-2002
Subjects
Land use -- Planning -- Oregon -- Portland Metropolitan Area,
Referendum -- Oregon,
Citizen participation
Abstract
Land use planning in a variety of forms has been coming to the ballot box in Oregon more frequently in recent years, and this raises a host of issues for citizens, planners, advocates of all stripes, and elected officials alike. Will we make planning decisions through deliberative, inclusive public processes, or will planning amount to ?yes-no? questions put before voters in the form of ballot measures? Will representative elected bodies be the decisionmakers, or will we bypass them completely with new applications of direct democracy? To help identify and describe this trend, this paper reviews the current literature on ballot box planning as a means for helping metropolitan area communities get ready for what is likely to be an increasing volume of planning-related electoral activity. Here, "ballot box planning" refers to the use of initiatives and referenda in deciding land use planning matters (Caves, 1992). Citizen initiatives and referenda are tools of direct democracy, and in the literature are also referred to as tools for "direct legislation."
Persistent Identifier
http://archives.pdx.edu/ds/psu/4805
Citation Information
Ethan Seltzer and Shayna Rehberg. "Planning at the Ballot Box : Better Decisions or the End of Planning?" (2002)
Available at: http://works.bepress.com/ethan_seltzer/8/