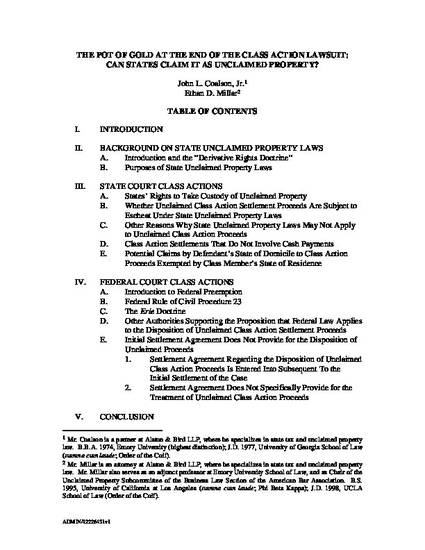 Unpublished Paper
The Pot of Gold at the End of the Class Action Lawsuit: Can States Claim It as Unclaimed Property?
ExpressO (2008)
Abstract
This article analyzes the potential application of state unclaimed property laws to unclaimed settlement proceeds in a state or federal court class action. This article concludes that, in a federal court class action, federal law rather than state law should apply to the disposition of unclaimed settlement proceeds under Federal Rule of Civil Procedure 23, the Erie doctrine, and other authorities. Thus, since federal law grants the district court broad discretion to approve settlements and determine the manner of disposing of unclaimed settlement proceeds, the court is not bound by state unclaimed property laws which may otherwise require those proceeds to be remitted to the state. However, even in the state court context, we point out that state unclaimed property laws vary widely, and many states exempt from escheat obligations, such as unclaimed class action proceeds, that are not incurred in the ordinary course of business. We also argue that no state should be entitled to claim amounts represented by uncashed settlement checks, when the parties to the settlement have expressly agreed that the defendant may retain those amounts. We recognize that under so-called state "anti-limitations provisions," most states appear to have the right to claim these amounts, but we suggest that those provisions should be interpreted narrowly to further the policies and purposes that underlie state unclaimed property laws. Finally, we suggest that in some cases, the parties can mitigate the risks imposed by state unclaimed property laws by structuring the settlement to require the distribution to class members of vouchers, coupons or gift cards redeemable for merchandise or services, rather than checks.
Keywords
class action,
preemption,
unclaimed property,
federal rules of civil procedure,
erie doctrine,
settlement
Publication Date
October 12, 2008
Citation Information
Ethan Millar and John Coalson. "The Pot of Gold at the End of the Class Action Lawsuit: Can States Claim It as Unclaimed Property?"
ExpressO
(2008)
Available at: http://works.bepress.com/ethan_millar/2/