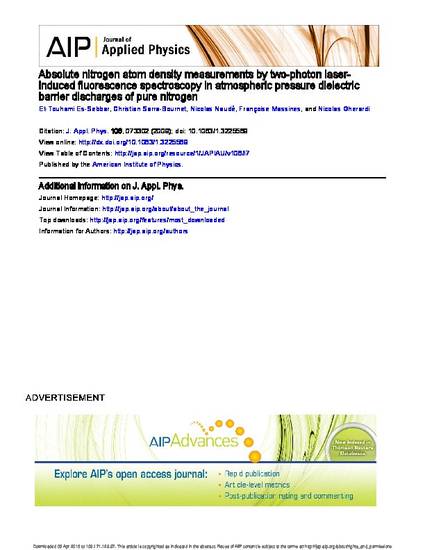 Article
Absolute nitrogen atom density measurements by two-photon laser-induced fluorescence spectroscopy in atmospheric pressure dielectric barrier discharges of pure nitrogen
Journal of Applied Physics, Volume 106, Issue 7, pages 073302-073308 (2009)
Abstract
In this paper, two-photon absorption laser induced fluorescence spectroscopy is used to follow the nitrogen atom density in flowing dielectric barrier discharges fed with pure nitrogen and operating at atmospheric pressure. Two different dielectric barrier discharge regimes are investigated: the Townsend regime, which is homogeneous although operating at atmospheric pressure, and the more common filamentary regime. In both regimes, densities as high as 3x1014 /cm3 are detected. However, the N atoms kinetic formation depends on the discharge regime. The saturation level is reached more rapidly with a filamentary discharge. For a given discharge regime, the N atom density depends strongly on the energy dissipated in the plasma between the gas inlet and the measurement position, whether the energy is varied by varying the position of the measurements, the gas flow, or the dissipated power. Experiments performed in the postdischarge show that the N atom decay cannot be simply attributed to three-body recombination of atomic nitrogen with nitrogen molecules, meaning that other mechanisms such as surface recombination or gas impurities play a role.
Keywords
Dielectric Barrier Discharge,
Townsend and Filamentary Dielectric Barrier Discharge,
Two-photon spectroscopy,
Nitrogen atoms
Publication Date
October 7, 2009
Citation Information
Et-touhami Es-sebbar, Christian Sarra-Bournet, Nicolas Naudé, Françoise Massines, et al.. "Absolute nitrogen atom density measurements by two-photon laser-induced fluorescence spectroscopy in atmospheric pressure dielectric barrier discharges of pure nitrogen"
Journal of Applied Physics, Volume 106, Issue 7, pages 073302-073308
Vol. 106 Iss. 7 (2009)
Available at: http://works.bepress.com/et-touhami_es-sebbar/5/