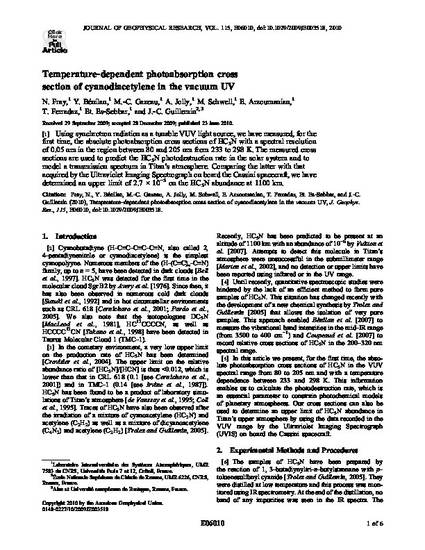 Article
Temperature-dependent photoabsorption cross-section of cyano-diacetylene in the vacuum UV
Journal of Geophysical Research (planets), Volume 115, Pages E06010-E06015 (2010)
Abstract
Using synchrotron radiation as a tunable VUV light source, we have measured, for the first time, the absolute photoabsorption cross sections of HC5N with a spectral resolution of 0.05 nm in the region between 80 and 205 nm from 233 to 298 K. The measured cross sections are used to predict the HC5N photodestruction rate in the solar system and to model a transmission spectrum in Titan's atmosphere. Comparing the latter with that acquired by the Ultraviolet Imaging Spectrograph on board the Cassini spacecraft, we have determined an upper limit of 2.7 × 10−5 on the HC5N abundance at 1100 km.
Keywords
Cyanobutadiyne,
HCN,
Absorption cross sections,
Vacuum Ultraviolet,
Low temperature,
Titan
Publication Date
Summer June 23, 2010
Citation Information
N. Fray, Y. Bénilan, M.-C. Gazeau, A. Jolly, et al.. "Temperature-dependent photoabsorption cross-section of cyano-diacetylene in the vacuum UV"
Journal of Geophysical Research (planets), Volume 115, Pages E06010-E06015
Vol. 115 (2010)
Available at: http://works.bepress.com/et-touhami_es-sebbar/3/