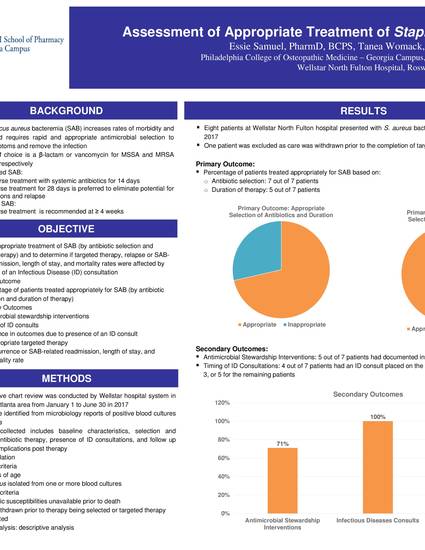 Presentation
Assessment of Appropriate Treatment of Staphylococcus aureus Bacteremia
Research Day
Start Date
15-5-2018 1:00 PM
Description
Background: Staphylococcus aureus (S. aureus) when present within the bloodstream can result in increased rates of morbidity and 30-day all-cause mortality. Previous studies have assessed the significance of Methicillin-susceptible S. aureus (MSSA) and Methicillin-resistant S. aureus (MRSA) bacteremia, where the treatment of choice is a β-lactam (or vancomycin if penicillin-allergic) or vancomycin, respectively. Rapid and appropriate antimicrobial selection is crucial for resolution of symptoms and prevention of relapse. For S.aureus bacteremia (SAB) treatment with systemic antibiotics, a short-course (14 days) can be utilized for uncomplicated cases and for patients with complicated SAB, long-course regimens are recommended at ≥ 4 weeks.
Methods: A retrospective chart review was conducted from January 1, 2017 to June 30, 2017 and appropriate treatment of SAB was assessed. Patients were identified through microbiology reports of positive with blood cultures isolating S. aureus, whether MSSA or MRSA. Information on baseline patient characteristics, selection and duration of antibiotic therapy, along with follow-up reports of complications, and presence of Infectious Disease consultation was obtained.
Results: SAB treatment was appropriate in 71% patients evaluated at Wellstar North Fulton hospital.
Conclusions: Antibiotic selection and duration of treatment for S. aureus bacteremia was appropriate in majority of patients evaluated in a community hospital setting.
Citation Information
Essie Samuel. "Assessment of Appropriate Treatment of Staphylococcus aureus Bacteremia" (2018)
Available at: http://works.bepress.com/essie-samuel/6/