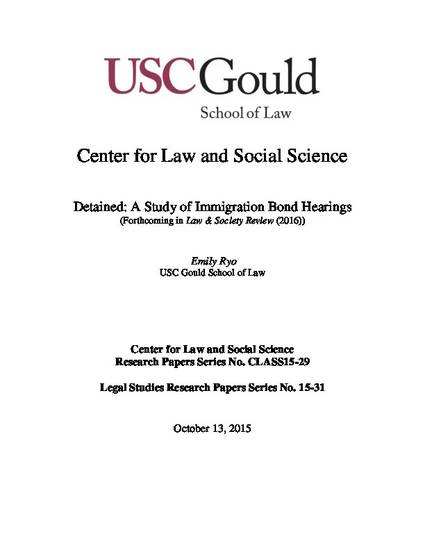 Article
Detained: A Study of Immigration Bond Hearings
Law & Society Review (2016)
Abstract
Immigration judges make consequential decisions that fundamentally affect the basic life chances of thousands of noncitizens and their family members every year. Yet, we know very little about how immigration judges make their decisions, including decisions about whether to release or detain noncitizens pending the completion of their immigration cases. Using original data on long-term immigrant detainees, I examine for the first time judicial decision-making in immigration bond hearings. I find that there are extremely wide variations in the average bond grant rates and bond amount decisions among judges in the study sample. What are the determinants of these bond decisions? My analysis shows that the odds of being granted bond are more than 3.5 times higher for detainees represented by attorneys than those who appeared pro se, net of other relevant factors. My analysis also shows that the detainees' prior criminal history is the only significant legally-relevant factor in both the grant/deny and bond amount decisions, net of other relevant factors. This finding points to the need for further research on whether and how immigration courts might be exercising crime control through administrative proceedings.
Citation Information
Emily Ryo. "Detained: A Study of Immigration Bond Hearings"
Law & Society Review
Vol. forthcoming (2016)
Available at: http://works.bepress.com/eryo/9/