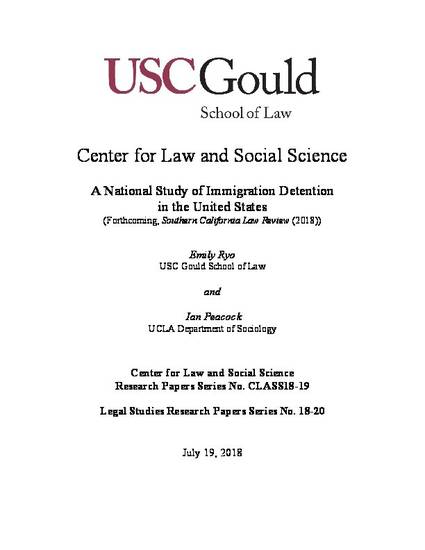 Article
A National Study of Immigration Detention in the United States
Southern California Law Review (2018)
Abstract
Amidst growing reports of abuses and rights violations in immigration detention, the Trump administration has sought to expand the use of immigration detention to facilitate its deportation policy. This study offers the first comprehensive empirical analysis of U.S. immigration detention at the national level. Drawing on administrative records and geocoded data pertaining to all noncitizens who were detained by U.S. Immigration and Customs Enforcement in fiscal year 2015, we examine who the detainees are, where they were held, and what happened to them.
Publication Date
November, 2018
Citation Information
Emily Ryo and Ian Peacock. "A National Study of Immigration Detention in the United States"
Southern California Law Review
(2018)
Available at: http://works.bepress.com/eryo/17/