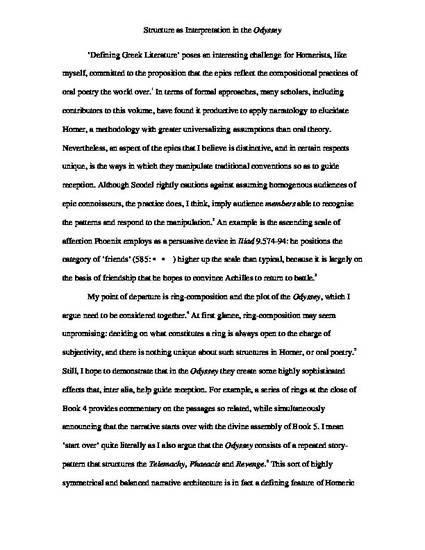 Contribution to Book
Structure as Interpretation in the Homeric Odyssey
Defining Greek Narrative
Document Type
Contribution to Book
Publication Date
1-1-2014
Abstract
The Odyssey is structured through a series of ring-compositions. Although scholars have ubiquitously identified ring-compositions in Homer, the technique has not been adequately theorized. This paper argues that the ring structures contribute to a thematic development that assimilates Odysseus' return into natural cycles, and implicitly promise prosperity to those who properly receive the narrative and even immortality to those who imitate its heroes. The poem even enacts the theme of Return by bringing the past vividly into the present. This use of a conventional pattern to direct audience reception distinguishes Greek epic from the oral epic traditions worldwide that it obviously resembles.
Document Object Identifier (DOI)
10.3366/edinburgh/9780748680108.003.0005
Editor
Douglas Cairns and Ruth Scodel
Publisher
Edinburgh University Press
Citation Information
Cook, E. F. (2014). Structure as interpretation in the Homeric odyssey. In D. Cairns & R. Scodel (Ed.),
Defining Greek narrative
(pp. 75-101). Edinburgh University Press.