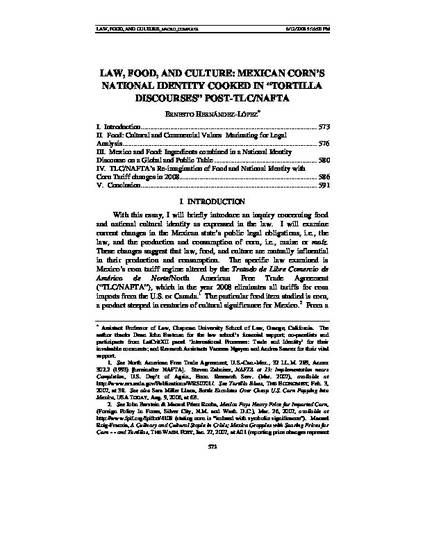 Article
Law, Food, and Culture: Mexican Corn's National Identity Cooked in 'Tortilla Discourses' Post-TLC/NAFTA
St. Thomas Law Review (2008)
Abstract
This essay offers a brief inquiry concerning food and national identity as expressed in the law. It examines how in 2008 the Tratado de Libre Comercio de America de Norte/North American Free Trade Agreement (TLC/NAFTA) eliminates Mexican tariffs for corn imports from the U.S. or Canada. Corn is examined as a product steeped in centuries of cultural significance for Mexico. This essay prepares a three-course argument. Section I incorporates insights from the food studies discipline to argue that beyond serving for nourishment food possesses enormous cultural and commercial value. This creates a ripe and abundant subject for legal analysis, focusing on how the law frames these tastes. Section II analytically serves up the cultural importance of food in Mexico's political economy. It shows how food is stewed within a discourse of national identity on a global table. This identity is imagined as a community with competing menu options of nationalistic and domestic and foreign and neo-liberal. Current tariff elimination resembles a historic and cultural tortilla discourse, which poses corn and its use by popular sectors against modern interests. Section III describes a re-imagination of food and national identity within the confines of Mexican law and the recent tortilla price crisis.
Keywords
food,
national identity,
NAFTA,
corn,
Mexico
Citation Information
Ernesto A. Hernandez-Lopez,
Law, Food, and Culture: Mexican Corn's National Identity Cooked in 'Tortilla Discourses' Post-TLC/NAFTA
, 20
St. Thomas L. Rev.
670 (2008). Available at: http://works.bepress.com/ernesto_hernandez/9