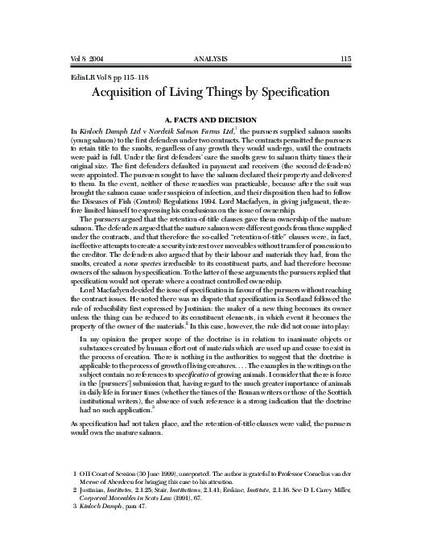 Article
Acquisition of Living Things by Specification
Edinburgh Law Review (2004)
Abstract
Ownership of the product of living things, such as human tissue or cultures developed from human cells, is difficult for the law to determine. Civilian jurisdictions, with their legal heritage grounded in Roman law, offer one solution. Civilian jurisdictions would resolve such cases under the rules of specification. A recent case from the Outer House of the Scottish Court of Session (Kinloch Damph Ltd v Nordvik Salmon Farms Ltd) addresses the problem. The case was properly decided, though the grounds of the decision could be improved. Specifically, on civil law principles, civilian courts ought to award ownership of a living thing to a maker/manufacturer who has altered the living thing's natural pattern of development.
Citation Information
Ernest Metzger. "Acquisition of Living Things by Specification"
Edinburgh Law Review
Vol. 8 (2004)
Available at: http://works.bepress.com/ernestmetzger/2/