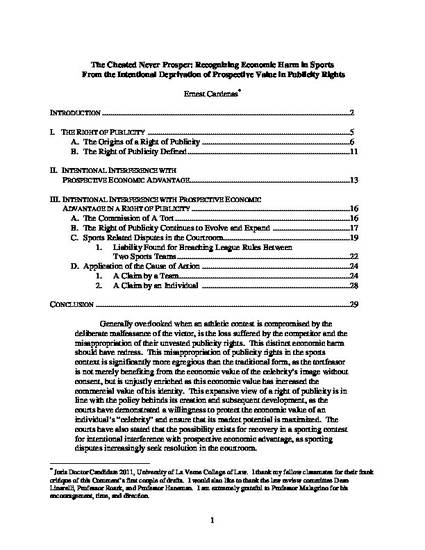 Unpublished Paper
The Cheated Never Prosper: Recognizing Economic Harm in Sports From the Intentional Deprivation of Prospective Value in Publicity Rights
ExpressO (2010)
Abstract
Generally overlooked when an athletic contest is compromised by the deliberate malfeasance of the victor, is the loss suffered by the competitor and the misappropriation of their unvested publicity rights. This distinct economic harm should have redress. This misappropriation of publicity rights in the sports context is significantly more egregious than the traditional form, as the tortfeasor is not merely benefiting from the economic value of the celebrity's image without consent, but is unjustly enriched as this economic value has increased the commercial value of his identity. This expansive view of a right of publicity is in line with the policy behinds its creation and subsequent development, as the courts have demonstrated a willingness to protect the economic value of an individual's "celebrity" and ensure that its market potential is maximized. The courts have also stated that the possibility exists for recovery in a sporting contest for intentional interference with prospective economic advantage, as sporting disputes increasingly seek resolution in the courtroom.
Keywords
right of publicity,
intentional interference with prospective economic advantage
Publication Date
March 14, 2010
Citation Information
Ernest Cardenas. "The Cheated Never Prosper: Recognizing Economic Harm in Sports From the Intentional Deprivation of Prospective Value in Publicity Rights"
ExpressO
(2010)
Available at: http://works.bepress.com/ernest_cardenas/1/