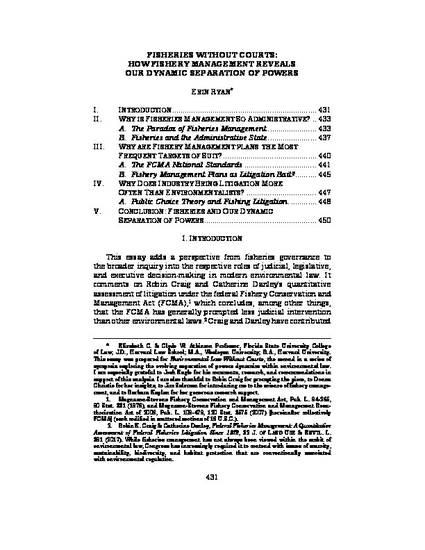 Article
Fisheries Without Courts: How Fishery Management Reveals Our Dynamic Separation of Powers
Journal of Land Use and Environmental Law (2017)
Abstract
This essay adds a perspective from fisheries governance to the broader inquiry into the respective roles of judicial, legislative, and executive decision-making in modern environmental law.  It comments on Robin Craig and Catherine Danley's quantitative assessment of litigation under the federal Fishery Conservation and Management Act (FCMA), and considers three key questions raised by their research: (1) Why is the judicial role in fisheries management small in comparison to the executive role? (2) When litigation is brought, why are fishery management plans the most frequent targets of litigation? And finally, (3) why is it that even with so many fisheries in decline, members of the fishing industry bring litigation more often than environmentalists?
The essay begins with a quick foray into fisheries science and economics to establish the fundamental paradox of fisheries management, in which managers strive to set a sustainable yield of extraction that accounts for the various ways in which extraction can itself alter the resource, requiring successively recursive rounds of regulatory adjustment.  This analysis indicates why fisheries management is ideally suited to the features of administrative governance, in contrast to the comparative advantages of legislative or judicial oversight, because bureaucratic experts can usually respond more rapidly and adaptively to a fluid stream of highly technical data.
Nevertheless, when FCMA litigation does arise, fishery management plans become the most frequent targets of suit because the legislature has statutorily deferred unresolved policy clashes to the executive branch—presumably because executive actors will be better positioned to resolve them in distinctive regional fisheries, and in consultation with relevant local stakeholders. When this litigation does arise, public choice theory helps explain why professional fishers routinely outpace environmentalists to the courtroom, even though long-term conservation interests are often more imperiled than the short-term economic interests usually championed by industry participants.
Despite these predictable problems, I conclude that administrative fisheries management is probably still our best bet, even if certain aspects of the FCMA could bear improvement, including improved stakeholder representation for conservation interests. Indeed, Craig and Danley's research reveals changing litigation trends after the Sustainable Fisheries Act of 1996 and the Magnuson-Stevens Reauthorization Act of 2006 that demonstrate the dynamic interplay between all three branches of government in fisheries management. Hopefully, this pattern of engagement will remain vital in fisheries management—and ideally, wider environmental law—appropriately erring on the side of administrative process while maintaining a healthy horizontal balance of power.
Keywords
fisheries management,
environmental law,
Fishery Conservation and Management Act,
Magnuson-Stevens,
horizontal separation of powers,
executive power,
administrative governance,
dynamic federalism,
negotiated federalism,
stakeholder representation,
public choice theory,
fishery management plan,
MSY,
maximum sustainable yield,
Craig and Danley
Publication Date
Spring 2017
Citation Information
Erin Ryan, Fisheries Without Courts: How Fishery Management Reveals Our Dynamic Separation of Powers, 32 J. LAND USE & ENVTL. L. 430 (2017).